---
International News
Products
US company launches robot security guard
The night watchman of the future is 5 feet tall, weighs 300 pounds and looks a lot like R2-D2 - without the whimsy. And will work for US$6.25 an hour.
A company in California has developed a mobile robot, known as the K5 Autonomous Data Machine, as a safety and security tool for corporations, as well as for schools and neighborhoods.
"We founded Knightscope after what happened at Sandy Hook," said William Santana Li, a co-founder of that technology company, now based in Sunnyvale, Calif. "You are never going to have an armed officer in every school."
Full Story
---
VBH launches new greenteQ hardware catalogue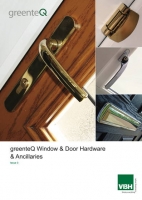 Hardware supplier VBH has launched the latest issue of the popular greenteQ Window & Door Hardware & Ancillaries catalogue.
more
---
15 - 16 JANUARY 2014, Sophia Antipolis, France.
The annual ETSI Security Workshop has built a reputation of being a premier event on Security. It brings together the latest from those developing International Standards and security experts to discuss recent developments, share knowledge, identify gaps and co-ordinate on future actions and work areas.
more
---
The mayor of Jersey City is planning to open a pair of mysterious safes built into a wall of his City Hall office.
Mayor Steve Fulup says he has no idea what they may have been used for, or whether anything might be inside. But he is planning to have a locksmith open them in December. City officials think they have been around for generations and not opened for many years.
Mayors who have served over the past 30 years say that they don't have any answers about them. But one bit of lore is that they may have been used to store kickbacks from city workers to Mayor Frank Hague, who ran the city from 1917 to 1947.
Source: newstimes.com
---
Specialist products strengthen Carl F Groupco's portfolio
Following a successful amalgamation and re-launch in 2010, Carl F Groupco reports that specialist products are playing a key role supporting its growth. Sitting alongside staple lines, specialised fittings support the company's ability to provide tailored hardware solutions and an added value advantage.
Statistics from 2013 show an upward trend in Carl F Groupco sales for FUHR's CE marked 870/871 emergency and panic multipoint door locks, with some lines increasing in sales by up to 90%. FUHR stable door hardware has also proved popular with sales up by 66% during 2013.
more
---
---
This Week's News
---
---
---
---
---
---
---
---
---
---
---
Locks and Security News Archive Search
We keep an extensive archive of news stories and product information that have featured in past issues of Locks and Security News. If you would like to run a search of the Locks and Security News web site using the search tool below please just go ahead by entering in the name of the person, product or company or any other key words that you are looking for.
---
How to contact us at Locks and Security News:
REQUEST LOCKS AND SECURITY NEWS HERE
Locks and Security News is broadcast every Wednesday. You may receive it FREE each week by clicking the link above.
To prevent this newsletter from getting swept up by overzealous email filters, we suggest that you add [email protected]
s.com to your address book.
News
---
---
---
---
---