Locks and Security News: your weekly locks and security industry newsletter
31st May 2023 Issue no. 658
Your industry news - first
We strongly recommend viewing Locks and Security News full size in your web browser. Click our masthead above to visit our website version.

---
Newcastle United FC selects MOBOTIX to help protect St James' Park with ultra-reliable and innovative IP-Video solution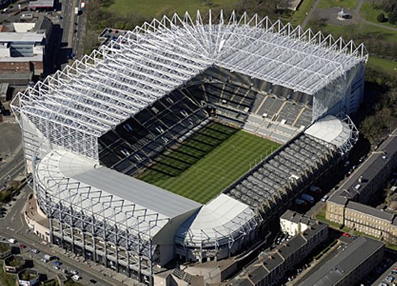 Direct Technology Ltd completes successful first phase of 130 camera deployment to protect 20 million annual visitors at the third largest stadium in the English Premier League.
MOBOTIX AG, a leading manufacturer of digital high-resolution, network-based video security systems has released details of a project for Newcastle United FC to provide its St James' Park Stadium with a comprehensive IP-Video system to protect staff, visitors and property.
Since the construction of the first stand in 1830, St James' Park has grown to become one of the UK's largest and most iconic of stadia. The 52,000 seat capacity welcomes football and rugby fans to over 34 matches each year and is further complemented by 6 conference and banqueting suites. The Stadium also hosts a number of concerts and events in support of the local community with an estimated 20 million visitors using the facilities each year.
With such huge numbers, the stadium maintains tight security and health and safety procedures and to this end was an early adopter of Video Surveillance. The existing system of 140 cameras provides visibility over the entire internal and external site and is manned by two dedicated control rooms.
However, as a progressive organisation, Newcastle United is continually striving to enhance both its facilities and security for both staff and visitors. The legacy Video Surveillance system installed in 2000 which according to stadium manager Eddie Rutherford, "...was state of the art at the time" was starting to show its age in comparison to modern designs.
"The two main issues were image quality and maintenance," explains Rutherford, who has been with the Club for 14 years. "We need a very high quality view of the seating areas for health and safety reasons and as such we use cameras with motorised pan-tilt-zoom but when we are zoomed in on one section, it is no longer possible to view the wider picture on that camera. Also, the quality of the current generation of cameras far exceeds what were available 15 years ago which means identifying people and situations is not as easy."
"Another issue is maintenance. Many of our cameras are high up in the roof structure and when one fails, it is a complex and expensive procedure to gain access and over the years, the vast majority of cameras have needed repairs or replacing - and at a certain point, it was no longer economically viable to repair them, which is the main reason we decided to look at a complete upgrade."
With the requirements of better image quality, removing the limitations of manual PTZ and a desire to increase the durability of the Video Surveillance network; Rutherford began looking at alternatives.
"We visited the MOBOTIX IP-Video installation at Kaiserslautern FC in Germany and we were incredibly impressed by the image quality of the digital PTZ," he explains, "But even more so at the reliability figures, especially as that stadium had installed a similar number of cameras as we had in St James' Park at roughly the same time but had almost zero failures during the last decade."
Rutherford was also impressed with the MOBOTIX decentralised IP-Video concept where recording on all camera models takes place both internally on an SD card or via the IP network onto Network Attached Storage offering nearly unlimited capacity. The "decentralised" recording concept removes the need for centralised server or control room that limits legacy central VMS based recording solutions.
Working closely with Direct Technology, a local IP-Video expert and MOBOTIX installer, the Football Club began a trial to ensure the technology would be suitable for the stadium. Following the successful completion, the first 30 MOBOTIX cameras were installed to cover several key areas. "There are some additional benefits in using MOBOTIX," says Rutherford, "We don't need to use special PTZ boxes, heaters or even separate power cabling and the cameras are adjusted so that they work automatically both during the day and during floodlight matches with the same image quality."
With the first installation phase complete Rutherford plans to install the remaining 100 cameras over the next 36 months. "The old Video Surveillance system is still in place but as cameras fail and when we have our routine maintenance projects, we plan to replace them with the new MOBOTIX cameras."
To date, there have been no failures and Rutherford has been extremely impressed by the innovative approach to upgrades, "We like the fact that we can add to the cameras as our needs change," he says, "For example, I know that there is the optional modules for automatic people counting and thermal imaging which is useful for quickly spotting if a flare or other flammable item has been set-off in the stands. These are not things we are doing yet, but the fact that the system supports it is a potential future benefit."
The combination of diligent management and MOBOTIX technologies will help to ensure that St James' Park continues in its long tradition of both welcoming and protecting all its guests.
23rd September 2015
---