Locks and Security News: your weekly locks and security industry newsletter
24th May 2023 Issue no. 657
Your industry news - first
We strongly recommend viewing Locks and Security News full size in your web browser. Click our masthead above to visit our website version.

---
How to stop retail theft in the run-up to Christmas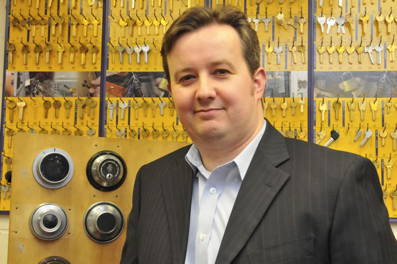 Increased footfall during the Christmas period can also mean a rise in retail crime, which can be devastating for small businesses.
Here, Dr Steffan George, development director of the Master Locksmiths Association (MLA) - the leading trade association for the locksmithing profession - advises retailers on keeping their shops and businesses secure in the lead-up to the festive period.
Christmas is the busiest time of year for UK retailers, but the ringing of tills is a double-edged sword for many shop and business owners. An influx of customers may cause sales to skyrocket, but it also leads to overcrowded shop floors, which provides perfect cover for shop lifters.
According to the Centre for Retail Research, there is a 20 per cent increase in shoplifting over Christmas.
Shoplifting is often considered a victimless crime, but that isn't the case because the economic effects of shoplifting can be devastating to businesses.
Women's clothing, alcohol, fashion accessories, toys, smart phones and tablet computers, electrical goods and jewellery, will be the most stolen items. Experts say professional and semi-professional thieves are the main cause of the losses, as they steal higher value items than petty shoplifters.
Security should be every shop owner's number one priority, not only to ensure that nothing is stolen, but also to guarantee the safety of customers and staff. But by implementing the appropriate security measures and reviewing temporary staff there should be no reason why crime should ruin the Christmas holidays.
It is important for retail businesses to be more vigilant than ever during the busy festive period. A good starting point is to ask a professional MLA-approved locksmith to carry out a security assessment, check your locks and, where necessary, upgrade and fit the appropriate additional security hardware. Make sure that any security features you invest in are of good quality. For a list of security products that have been independently tested to help secure your business, visit www.soldsecure.com.
During the Christmas period, CCTV and alarms may be tested more than ever, so giving them an upgrade or asking a security expert to come and check them could be highly beneficial. Take expert advice on where to station your monitor and where to station your cameras. Ensure the recording device is securely stored so that evidence of any break-in is not lost.
Anti-theft equipment is becoming more affordable and simple signage warning people that the store is equipped with CCTV and that shoplifters will be prosecuted is a helpful deterrent.
Owners of high-risk stores in areas with a reputation for rampant crime should also consider heavy window screens and burglar resistant glass doors and windows.
Burglars typically spend five minutes at most trying to gain entry into a property so fitting high quality, resilient shutters, grilles, or high quality armoured doors, to act as a barrier, prior to event gaining access to the doors or windows, will deter intruders.
Ill-secured and poorly maintained premises are an easy target as it presents thieves with a relatively low risk and high gain opportunity. Maintenance is vital as rusted locks, chains, cracked panes of glass and rotten frames and sills are all items that opportunistic thieves look out for so it's essential to perform regular and thorough maintenance checks.
If your stock room is on the ground floor, block the windows to stop visibility and consider adding bars and grilles. Adding bars and posts to your parking areas is also a good idea. If they are removable posts, this enables you to decide who can park around your store and who can't, giving you control over the access areas.
Most shopping centres have their own security staff, but a shutter or reinforced glass on the windows are always good investments.
With the increase in customers, as well as security, safety becomes important so it is a good idea to check that your fire procedures are in place and that alarms and emergency exits are clear and in good working order. These should be checked before the Christmas rush begins so you know you will be able to deal with the situation if there should be an emergency at any point during the holidays.
Tightening up on security and putting new measures on place may sound like expensive investments, but they are always good investments. Security is for life - not just for Christmas!
For further information please visit www.locksmiths.co.uk.
Follow @MLA_locksmiths on Twitter or find us on Facebook
4th November 2015
---