Locks and Security News: your weekly locks and security industry newsletter
29th November 2023 Issue no. 682
Your industry news - first
We strongly recommend viewing Locks and Security News full size in your web browser. Click our masthead above to visit our website version.

---
Hikvision Darkfighter cameras revolutionise Salford's nighttime surveillance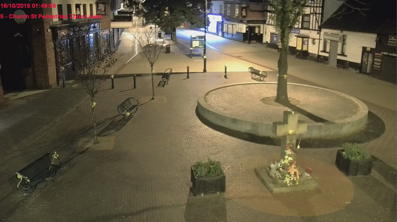 When Salford City Council began upgrading its public space CCTV cameras with Hikvision's Darkfighter models, video operatives reported some unusual results: they were suddenly able to see crystal clear night time images.
Previously low-light surveillance images were murky and suspicious activity hard to make out. Now, armed with Darkfighter cameras from Hikvision, Salford's control center is able to offer true 24/7 active monitoring while simultaneously reducing bandwidth requirements.
The City of Salford in England's northwest is a metropolitan borough of Greater Manchester, and includes Salford itself as well as the towns of Eccles, Swinton and Pendlebury, Walkden, and Irlam. More than 218,000 people live in the City, and Salford City Council and its partners fund 130 public space CCTV cameras which cover eight neighborhoods.
The CCTV cameras are monitored at a central control room located at Salford Civic Centre. This control room is linked to police radios so staff is aware of incidents, missing people or people wanted for questioning, and can easily pass intelligence to the police. Information provided by the council's CCTV team helped police arrest 200 people last year.
In such densely populated urban environments, CCTV monitoring plays a crucial role, and not just for keeping an eye on unruly behavior after pubs and nightclubs close for the evening. Salford City Council's cameras were key players in providing evidence for Operation Pandora, the Council's high profile crackdown on fly-tippers, illegally dumping rubbish in the City.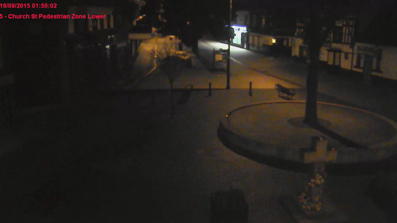 But previous cameras struggled to capture clear and effective public space video images in low-light scenarios. This meant that operatives found it hard to offer a true 24 hour monitoring service after 10pm or 11pm, depending on time of year. Now that they've begun installing Hikvision's Darkfighter camera range, however, that is all changing.
An introduction to Hikvision.
Salford Principal Community Safety Officer Stephen Kearney said the Council began using Hikvision cameras two years ago after a house building partner suggested using them to monitor a new development.
"I'd never heard of Hikvision and wasn't sure about using untried and untested cameras," he said. "So we didn't install them at the development. We put them on the rooftop of one of our corporate buildings, and the next day the CCTV operatives called me and said you've got to see this - these are the best cameras we've got!
"So for the past two years we haven't installed any cameras other than Hikvision, and in that time none of the Hikvision cameras have failed, which is not the case with previous cameras we've used."
Challenges to overcome.
Kearney said that as a local authority, Salford City Council faces multiple challenges when it comes to effective CCTV monitoring.
"The first of these is budget constraints," he said. "We don't have the luxury of being where we were five or more years ago when we had revenue funding available to support the growth of CCTV cameras, so we have to think extremely carefully about our ability to upgrade or replace our existing cameras when those go faulty. And the fact is that Hikvision's cameras are very competitively priced. "And because of the limitations of the cameras we had used before, we had struggled to provide a true 24 hour, 7 day a week service - just because they weren't able to capture low-light images of the quality that Hikvision's Darkfighter cameras can.
"In addition, the Hikvision cameras are far less bandwidth intensive than our older cameras. So we have a better quality product, it's cheaper to buy, and it's cheaper to actually run, because the bandwidth requirements are lower. So it's win-win all round. It's almost like an invest-to-save opportunity."
Enter the Darkfighters.
After the initial use of two Darkfighter cameras as part of Operation Pandora's fly-tipping crackdown, Kearney approached his CCTV operators and asked where the most benefit would be gained from upgrading to Darkfighter cameras. As a result of their feedback, further PTZ domes were installed in October 2015 in Eccles Town Centre to replace older cameras.
The Darkfighter domes were supplied by distributor ezCCTV. The models used were DS-2DF8223I-AEL PTZ network domes. As well as their exemplary low-light performance, these domes have a 23X optical zoom Day/Night lens and feature a wide range of smart functions, including face detection, intrusion detection, line crossing detection and audio exception, are rated for tough outdoor use, and provide full HD1080p crisp video images.
Kearney said the results so far have been undeniably outstanding. "We tried the product, and its performance was unlike anything we had experienced previously. It turns night into day. As and when funding permits, we will definitely be replacing more cameras with Darkfighters. In an ideal world, we'd swap out all 130 public space cameras for the new models from Hikvision!"
Future installations are planned to include Hikvision DS-2DF8336IV-AEL PTZ Darkfighter domes, which feature 36x optical zoom, and DS-2CD4A85-IZS 4K Ultra HD bullet cameras, offering ultra-high resolution images for powerful and effective real-time monitoring and evidential purposes.
Salford Deputy City Mayor Councilor David Lancaster said: "The CCTV cameras play a vital role in our city. Our staff report incidents to police, enabling them to respond quickly, gather evidence for prosecuting fly-tippers and have saved dozens of vulnerable missing people by alerting the authorities. We were astonished at the clarity of the new 'Darkfighter' cameras. They really do turn night into day and give us pin sharp images which will help immensely. Plus they are almost half the price of the previous cameras which is an additional bonus."
2nd December 2015
---