Locks and Security News: your weekly locks and security industry newsletter
27th September 2023 Issue no. 673
Your industry news - first
We strongly recommend viewing Locks and Security News full size in your web browser. Click our masthead above to visit our website version.

---
Global lock market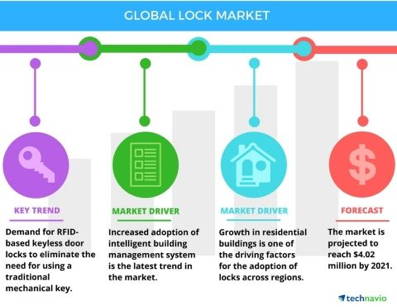 Technavio analysts forecast the global lock market to grow at a CAGR of above 6% during the forecast period, according to their latest report.
The research study covers the present scenario and growth prospects of the global lock market for 2017-2021. To calculate the market size, Technavio analysts consider the revenue generated through the sales of locks at the manufacturer level.
In APAC, in 2012, countries such as South Korea, Mongolia, and Brunei witnessed the highest rate of burglary for a given population. Although this rate is approximately five times lesser than that in countries such as Belgium and Costa Rica, the penetration of locks was low. Therefore, vendors are focusing on such underpenetrated markets for potential growth opportunities. The subsequent focus on undertaking security measures has led to the increased installation of lock systems despite their high cost.
Request a sample report: www.technavio.com
Technavio's sample reports are free of charge and contain multiple sections of the report including the market size and forecast, drivers, challenges, trends, and more.
Technavio analysts highlight the following three factors that are contributing to the growth of the global lock market:
Security concerns
With improvements in the standard of living and the availability of affordable home security systems, consumers from all income segments are investing in home security products. Moreover, in developed regions such as North America and Western Europe, the average loss incurred from burglaries for residents that have equipped homes with security systems is approximately USD 2000 lower than that for residents whose homes lack such security systems.
Sarah Haque, a lead research analyst at Technavio, says, "Commercial and residential end-users are also focusing on the digitalization of locking systems for enhanced security. Vendors are capitalizing on such opportunities to introduce new products. However, today, even with the best security systems in place, the safety of valuables remains a major problem because of the lack of adequate end-user training in the event of security breaches."
Increased adoption of intelligent building management
The intelligent building management system is the latest trend in the market. It is driving the need for integrating various products and their functionalities in buildings. The use of the intelligent building management system includes the deployment of various security systems that help address security concerns.
"The safety aspect of the intelligent building management system includes the use of safety lockers, electronic locking systems, and intruder alarm systems among other security devices. There are several vendors that offer locking systems that match the requirements of the intelligent building management system," adds Sarah.
Growth of housing market
Growth in residential buildings is one of the driving factors for the adoption of locks across regions. In 2015, there was upward growth witnessed in construction spending projects in comparison to 2008. The construction of residential buildings has been witnessing a major boost in metros. In 2014, construction projects, including residential construction, was valued at over USD 450 billion, which is an increase of over 3% compared to 2013.
As Asian economies, have been expanding rapidly, domestic demand has been a major driver in the construction industry. In 2016, residential construction in Europe witnessed a growth of over 3%, which led to the consumption of security products such as locks. In 2016, 1.54 million new homes were expected to be completed in Europe, which represents an increase of 9.15% as compared to 2013.
Top vendors:
- Godrej & Boyce
- AMSEC
- Gunnebo Group
- Yale
As a Technavio Insights member, you will have immediate access to new reports as they're published in addition to all 6,000+ existing reports covering segments like health and wellness, lab equipment, and outdoor gear. This subscription nets you thousands in savings, while staying connected to Technavio's constant transforming research library, helping you make informed business decisions more efficiently.
Technavio is a leading global technology research and advisory company. The company develops over 2000 pieces of research every year, covering more than 500 technologies across 80 countries. Technavio has about 300 analysts globally who specialize in customized consulting and business research assignments across the latest leading edge technologies.
Technavio analysts employ primary as well as secondary research techniques to ascertain the size and vendor landscape in a range of markets. Analysts obtain information using a combination of bottom-up and top-down approaches, besides using in-house market modeling tools and proprietary databases. They corroborate this data with the data obtained from various market participants and stakeholders across the value chain, including vendors, service providers, distributors, re-sellers, and end-users.
If you are interested in more information, please contact our media team at [email protected]
15th March 2017
---