Locks and Security News: your weekly locks and security industry newsletter
31st May 2023 Issue no. 658
Your industry news - first
We strongly recommend viewing Locks and Security News full size in your web browser. Click our masthead above to visit our website version.

---
The hidden key to guest satisfaction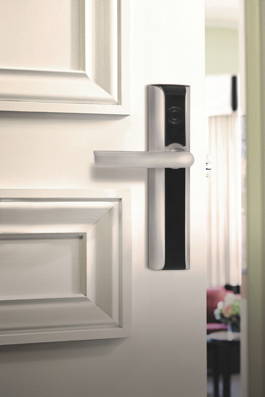 Interiors, customer services and facilities may well steal the limelight to guest satisfaction in hospitality. However, it is the finer, more 'hidden' details that can make or break a guest's stay. Trevor Ball, area sales manager for Allegion UK in hospitality, explores what RFID technology is doing for the hotel industry.
When we're booking a stay at a hotel, it cannot be denied that there are certain attributes we look out for. Location, room facilities, interior design, amenities, catering, room cleanliness, Wi-Fi connectivity, guest satisfaction reviews - these are all traditional features that make up the USPs of the hotel.
They are what you would expect to see when you're flicking through the travel brochure (or perhaps more commonly now, the travel website). In a market where points of differentiation are small, these 'selling' points are what a brand must do well to stay competitive.
In fact, out of more than 1,000 business and leisure respondents in PwC's ongoing Consumer Intelligence Series, 'What's driving customer loyalty for today's hotel brands?', room quality is the most valued aspect. This is followed by location and, then, loyalty benefits.
However, while a hotel must concentrate on these features to build up the 'wow' factor, it must also concentrate equally as hard on satisfying one much more fundamental aspect, and one that is often overlooked - room access, security and control.
Unpleasant experiences
Why? Well many hotels still use magstripe or chip card reader technology to form the basis of their room access control. This technology has been around since around the 80's, and while it has become a mainstay of the hotel industry, it hasn't been without its problems.
One of the main issues is that the technology is not contactless. In other words, to operate the room lock, contact between card and door lock is required. Due to this frequent contact, dust, dirt and grime can build up on both objects. This can render the lock and card unusable if not maintained or cleaned, and guests being stuck outside their rooms and unable to gain entry is a common scenario.
More recently, magstripe technology, due to its very nature of relying on magnetics, is also becoming more and more of a hassle. This is because of the rise of smartphones, which contain magnets that can wipe the programming from magstripe credentials upon contact.
Looking at it from the guest perspective, they may well be weary from having travelled for many hours, perhaps have a young family and have trudged their way around a large hotel. To have to make their way back down to reception to resolve a room access issue can be a hugely unpleasant experience that will stick long in the memory.
On the security side, magstripe and chipped cards are also lacking. As they cannot be connected to online systems, audit trails are not possible, and room locking functionality is limited.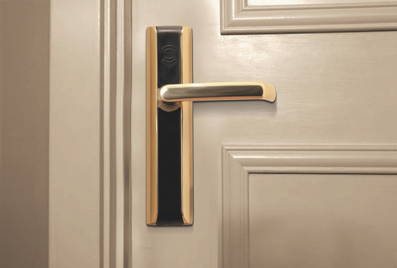 The rise of contactless RFID technology
Radio Frequency Identification (RFID) technology is rapidly becoming the answer to the problems that magstripe and chipped cards and locks were unable to solve.
Still relatively new (the technology was introduced to the market around the early 00's), RFID works by programming locks to recognise unique codes, either in an offline system where locks are programmed individually or in an online 'live' system. Codes are then programmed onto either chipped keycards or RFID-enabled devices (such as smartphones), which become keys. Once the 'key' is passed over the sensor, the computer will recognise the code and release the locking mechanism.
For hotels, the contactless nature of RFID provides two important cost benefits. First, it removes the problem of wear and tear with grime and dirt build-up as there is no contact required between lock and key, ultimately resulting in less ongoing labour maintenance costs.
Second, and probably more importantly, retrofitting and labour costs are much lower, as RFID locks don't require hardwiring into the building. CISA's RFID locks, eGO and eSIGNO, for example, run off AAA batteries that power the lock in excess of 20,000 cycles. Contactless locks are more aesthetically pleasing too - unsightly doorways covered in metalwork to hide wiring and drilling damage should become a thing of the past.
Opening the door to a world of integrated security
While bringing costs down will naturally prick up ears across the industry, it is what RFID technology can do with security for both guest and hotel that truly makes it a better choice on the current market.
A common worry for guests is the safety of their belongings while they are away from their rooms. Complaints of theft, whether suspected to be the housekeeping staff or otherwise, are well-documented and countless.
Indeed, according The Economist's Gulliver Business Travel blog, one contributor noted a situation where an intruder was able to gain access and steal from a friend's room at a hotel they were staying in, but even several weeks after the theft, the hotel manager was still unable to give an answer as to what could have happened.
As RFID locks record a log of activity within their computers, security managers can now quickly report back to guests on who entered the room and when, enhancing integrity and transparency. On the other hand, for the hotel, it gives added protection from liability issues and guests who make false claims of stolen property.
Hotels may choose to go into more detail with how they distribute access, too, simply by placing locks and doors around common areas. Should anything happen within those common areas, then it can be quickly traced back to the staff who have been given the access, resulting in a faster investigation. This may be particularly important to guests such as celebrities, royalty or policitians, where their security is paramount.
The ability to integrate RFID locks into full online and live systems is also a big continuing development that is still being explored and refined. For guests, it can be as simple not having to hang 'Do Not Disturb' signs outside the door and instead using button or smartphone control from within the room. Housekeeping can actively see which rooms are available for cleaning and not unexpectedly barge in on guests if they haven't hung up their signs or answered at the first knock.
For security managers, full-scale lockdown or all-area access at the touch of a button is now possible, making extreme situations potentially more manageable.
The hidden key to a better guest experience, and loyalty?
RFID technology has rightly become one of the major talking points within the door security industry, and we are just starting to scratch the surface of how to tailor it to the hotel scene.
While it has yet to become a one of those attributes that the guest may be actively looking for from a hotel, hoteliers would be wise to promote it within their offering as a visible selling point.
Going back to the PwC Consumer Intelligence Series, it is reported that loyalty is derived from soft benefits such as 'convenience' and 'for travelers, loyalty is about receiving benefits they don't actually request'.
Surely, having peace of mind and a seamless experience belongs as one of those 'hidden' benefits to guest satisfaction.
For more, visit www.allegion.com.
19th April 2017
---