Locks and Security News: your weekly locks and security industry newsletter
31st May 2023 Issue no. 658
Your industry news - first
We strongly recommend viewing Locks and Security News full size in your web browser. Click our masthead above to visit our website version.

---
Start your IFSEC journey with the BSIA - stand B1300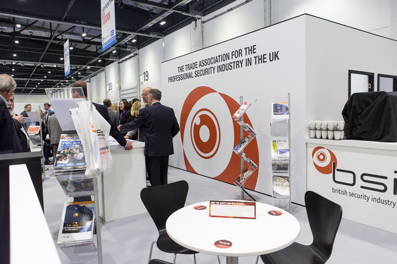 IFSEC International returns to London's ExCeL this week, over the 20th - 22nd June 2017, bringing the world's leading security brands together under one roof.
As the leading trade association for the private security industry, the BSIA has once again partnered with IFSEC and will have a strong presence at the show.
Chief Executive of the BSIA, James Kelly, comments: "The BSIA is proud to be a partner to IFSEC International and we wholeheartedly recognise the importance of the show to the security industry. For the BSIA, IFSEC presents an opportunity for us to engage with the wider security industry and to demonstrate the value of the Association in providing a voice to the industry.
"As in previous years, the BSIA will be hosting a variety of activity on its stand - including a networking event with Professor Brian Cox OBE and the launch of a new cyber security initiative on Wednesday - and will be providing its members with access to an exclusive members lounge.
"This year, as part of the BSIA's 50th anniversary celebrations, we will be co-hosting a networking drinks reception with IFSEC Global on the final day of the show. We are pleased to invite our industry colleagues to network with the 50 most influential people in the fire and security industries at 2.30pm in the Security Management Theatre."
Many members of the BSIA will be exhibiting at the show this week, including:
Altron - Stand B710
Altron is a leading manufacturer of CCTV poles, columns, towers and associated mounting equipment. Based in the UK, they ship products across the world for sectors including Oil and Gas, Industrial, Commercial, City Centre, Government and many more. They have supplied product for many prestigious, critical and high-profile projects, including the world's largest sporting event in 2012 and many hazardous oil and gas installations.
Altron designs products specifically for CCTV use and this is where their heritage lies - they have specialised in the CCTV sector for over 30 years with many 'firsts' to their name, now including their ANCT range of towers which can be cabled entirely internally.
At IFSEC 2017, Altron will be demonstrating their Lowering Trolley Head pole, which includes patented features. These benefit the end user in ease of operation and provide enhanced health and safety benefits to the operator.
CSL Dualcom - Stand D1100
Visit the CSL stand at this year's IFSEC to discover their latest innovations and fully managed connectivity solutions. CSL will also be showcasing CSL Connected and brand new CSL Routers. CSL Connected combines their Critical Connectivity with your chosen alarm panel and the added option of an end-user App, so end-users can control their alarm from their phone. CSL Routers provide a range of connectivity options for any CCTV system from fixed IP addresses for stand-alone systems to high speed internet access for cloud based systems.
Together with their CCTV partners, there will be demonstrations of CCTV over mobile in real-time with connectivity provided by the CSL Routers. Visitors can also get their hands on the latest kit including the installers' favourites, DigiAir and GradeShift.
CSL's Sales Director, Rob Evans, commented: "IFSEC is an invaluable opportunity for us to catch up with our installers. By visiting our stand this year, they can discover how we are working with our Panel and CCTV partners to provide combined solutions which make installations quicker, easier and more reliable and valuable to their business."
Elmdene International - Stand F1150
Elmdene will be exhibiting at IFSEC and showcasing a variety of new products including a new range of power supplies carefully designed to house some of the most common door controllers, to ensure convenience and flexibility for installers. With different power options and enclosure sizes available, this new access control range offers the installer a choice of PSUs, for a variety of applications.
The PoE UltraPod(tm), a unique PoE product that can power and control multiple doors using a single Ethernet cable will also be exhibited. Elmdene will also be showcasing the PoE MiniPod(tm), a PoE+ powered device that provides four hours of back-up power to critical PoE cameras. In the event of a mains drop out, the MiniPod(tm) enables a continuous recording of high-security cameras. Visitors to IFSEC will be able to view live demonstrations of both the PoE UltraPod(tm) and PoE MiniPod(tm).
Elmdene's CCTV PSU Range of Power supplies that provide neat, easy and flexible installation of analogue CCTV systems will also be displayed on their stand.
General Manager of Elmdene International, Sharon Ramsay, comments: "IFSEC is an ideal opportunity to meet with existing and potential new customers, all under one roof! It's also a brilliant platform for us to showcase our new innovative products and to gather critical feedback from installers regarding our products. Finally, with the various evening events, it's also a great chance for manufacturers, industry bodies and customers to all network together."
Knight Fire and Security Products
Knight will be having meetings at various stands across IFSEC and will also be utilising the BSIA members' lounge. This year, Knight are pleased to announce that the SEISMO ADVANCE unit meets the new CENELEC publication of EN 50131-2-8:2016, as it includes four selectable fault output resistors which can be configured in a triple EOL configuration. Knight will be promoting this product throughout IFSEC 2017 with demonstrations and can arrange samples.
Mike Inker, Sales Manager (UK and Ireland), comments: "IFSEC has consistently proven to be a fantastic opportunity for us to meet with our export distributors, as well as our UK customers under one roof and over several days. As a market leading UK manufacturer of high quality EN 50131 graded intruder alarm and access control components for over 30 years, we place great value on the unique and convenient chance to see our longer distance customers in person. Business introductions that began as chance meetings at IFSEC many years ago have since become long term personal relationships. We are confident that IFSEC 2017 will reach those same high standards."
Nocturna - Stand F1700
Nocturna is part of the award-winning IRNV Group specialising in innovative infrared night vision products.
They provide hardware and support to security, military and blue light industries worldwide with their range of night vision products, providing crystal clear low light imagery up to 500 metres away.
Their products are also used by government and civilian search and rescue organisations, increasing search capabilities at night, increasing successful early detection of people lost or injured in low visibility scenarios, ultimately saving lives and increasing survival rates in hostile environments. Even in a domestic setting, their handheld products will help to protect the home by giving users the ability to see clearly in the dark of the night or in the most enclosed spaces.
At IFSEC Southeast Asia 2016, Nocturna unveiled their new handheld night vision range, continuing their commitment to support and react to an ever-changing global marketplace.
International Sales Manager, Jake Howell, says: "IFSEC International allows us to showcase our products and services to the full security industry. This enables us to develop and maintain customer relationships and allows us to establish new business partnerships.
By having the whole security industry under one roof, it gives us access to the new technologies available and any future trends, which allows us to get to grips with the market and what our customers expect from us."
www.nocturna.co.uk
Skyguard - Stand M200 (Safety and Health Expo)
Skyguard will be exhibiting at IFSEC International this year and have recently launched a new version of their Windows Mobile smartphone app which connects to their 'SmartButton' Bluetooth panic button accessory.
Skyguard will be demonstrating their range of exclusive dedicated devices and smartphone apps, which are certified to the new BS8484:2016 standard. For clients who place an order as a result of meeting Skyguard at the Safety and Health Expo this year, Skyguard will be offering the first month's service subscription free.
Marketing Director, Will Murray, comments: "Skyguard have for many years enjoyed successful product launches and promotions at the Protection and Management Series and this year is no different, with a brand new version of our Windows Mobile app which connects to our SmartButton accessory and an exclusive special offer for clients who sign up to our service as a result of meeting us at the show."
Soloprotect - Stand L170 (Safety and Health Expo)
Lone worker safety provider, SoloProtect, will be co-locating with leading personal safety charity, Suzy Lamplugh Trust, at this year's Safety and Health Expo within close proximity to the Lone Worker Education Theatre.
SoloProtect will again be showcasing its range of BS8484:2016 approved lone worker solutions. The company provide a combination of discreet technology, combined with in-house, 24/7, EN 50518 approved Alarm Receiving Centre support. SoloProtect has supplied in excess of 200,000 lone worker devices, and continue to help employers in all sectors, to reduce physical and social risks to staff, and financial risk to their organisation through effective technology and the most rapid response.
Craig Swallow, Managing Director, SoloProtect UK, commented: " Suzy Lamplugh Trust remains both our nominated and supported charity and a SoloProtect solution user, so we're delighted that they are joining us on stand at the event this year. In addition, we're looking forward to announcing some new developments about our product range."
TDSi - Stand A1250 / B1250
TDSi will be showing customers its forthcoming GARDiS software and hardware solution, which offers all the benefits of a highly secure web-based application. GARDiS is easily adaptable for an increased workload, provides easier maintenance and installation, is more secure and is accessible from anywhere (on any device) utilising a simple-to-use and intuitive interface.
TDSi will be showcasing its GARDiS software and hardware solution in its own exclusive Technology Showcase demonstration area at the ExCeL during the event. Additionally, TDSi's systems will also be on show to all visitors as part of the Anixter Stand, D1050.
John Davies, Managing Director of TDSi comments: "We have a longstanding relationship with IFSEC International and have always used it as a platform to raise awareness, not only of TDSi's products and services, but also to educate and inspire visitors.
"As a developer and manufacturer of market-leading integrated security systems, we pride ourselves on providing the best education and training opportunities every year, but this year we are extending it further with sponsorship, as well as close participation, with the Tavcom Training Theatre. We are literally putting education centre stage and making it the focal point to our commitment to all parts of the supply chain, across a broader audience.
For more information see www.bsia.co.uk, email [email protected] or telephone 0845 389 3889/020 3585 1444.
21st June 2017
---