Locks and Security News: your weekly locks and security industry newsletter
31st May 2023 Issue no. 658
Your industry news - first
We strongly recommend viewing Locks and Security News full size in your web browser. Click our masthead above to visit our website version.

---
Mini Condor Electronic Key Cutting Machine with new battery adapter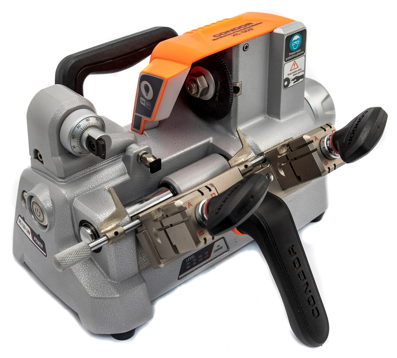 Here at 3D Group we pride ourselves on always looking for the most innovative products to bring to the market. We like to find products that save people time and money but also help to bring convenience too.
That's why we are now selling the Mini Condor Electronic Key Cutting Machine and the new Battery Adapter.
The Mini Condor Electronic Key Cutting Machine might be small, but it still comes with an impressive specification:
Technical Specification
Power supply - 90V--264V (AC) / 47~63Hz
7' Capacitive Touch Screen
Built-in Database
Key Reading/Decoding System - Electric Contact
Movements/Axes - 3-Axis Precision Ball Screw Transmission
Jaws - Three Clamps M1/M2/M3 Double sided keys/ Laser and Tibbe keys
Cutter Speed - 9000rpm
Aluminum Machine Body
Dimensions - Width: 362mm / Depth: 265mm / Height: 301mm
Weight - 18Kg
As you can see, just because it's small doesn't mean that it lacks features. The Condor Mini is designed to combine mechanical and electronic precision to give top notch key cutting performance and comes with a very important innovation. The machine comes with special jaws that allow you to cut most laser keys on the market but to also to edge cut most door keys and Tibbe keys.
The machine also comes with built in software which makes the machine's prices point even better and being so light and compact it is very well suited for anyone with limited space or working from a van.
A brand new innovation that has hit the market is the Battery Adapter designed specifically for the Condor Mini. Now I wanted to get an expert opinion on the Battery Adapter, so to do this I have spoken with veteran locksmith Martyn Cataldo about the pros and cons of this ingenious new product.
How easy is it to fit?
The Battery Adapter is not a plug and play device so the Mini Condor machine needs to be stripped down before fitting, but even with this it only takes arounds 30 minutes to fit
What are the benefits to using the battery adapter?
It is great if your van has no direct power supply, for when your van needs to go in for a service or off the road for some time. The battery can be charged via the 12v charger in a van rental or charged the night before.
Does it affect the normal use of the machine?
No, it doesn't affect the normal use of the machine
How many keys can it cut with the battery adaptor installed?
30 - 40 keys can be cut using the adapter depending on the blanks and the setting for the speed cutting
Can you cut keys when charging the battery?
Yes, keys can be cut when the machine is plugged in and charging
Is it good value for money?
If you already have a Condor then at only £100 it is great value for money as it makes the machine even more convenient and flexible
The Battery Adapter is a great product as it adds portability and convenience to your Condor Mini without affecting the performance of the machine. It does take some technical knowledge to fit, but overall the 30 minutes it takes to fit is well worth the effort.
Now, speaking of battery power, brings me to the last product in the Condor line that I want to talk about, the Condor XC-009. This machine has been making waves in the industry due to its great performance but also due to its powerful internal battery. This battery carries enough charge to cut 60-100 keys consecutively, which makes it perfect for working in a van without a power supply or for taking with you on jobs. But the portability of the machine does not affect the performance or specification:
Technical Specification
Motor rotation speed: 1800rpm
Clamp space: 95mm
Working temperature: 0-50?
Humidity: 10-90%
Machine size: 285 x175x180mm
Power: 200W 12V-18V/3A
Motor torque: 1.2 Nm
Four sided jaw allowing a wide variety of key profiles to be cut.
The XC-009 is very well priced but we are also offering a great discount of 10% if you pre-order now with no deposit needed, making choosing the Condor XC-009 even easier.
Overall, the Condor line of machines focus on giving you all the features you expect from a top of the line machine but also adds the portability and convenience into the mix. It is quite obvious that the battery powered elements of these machines make them stand out in the market and certainly makes them great investments due to their flexibility and the fact they can be used in environments with no power or little space. All the machines are competitively priced, give value for money and are perfect as a backup machine but with the added bonus of them being robust enough to be your number one, go to machine.
12th September 2018
---