Locks and Security News: your weekly locks and security industry newsletter
20th September 2023 Issue no. 672
Your industry news - first
We strongly recommend viewing Locks and Security News full size in your web browser. Click our masthead above to visit our website version.

---
Auro - is it worth the hype?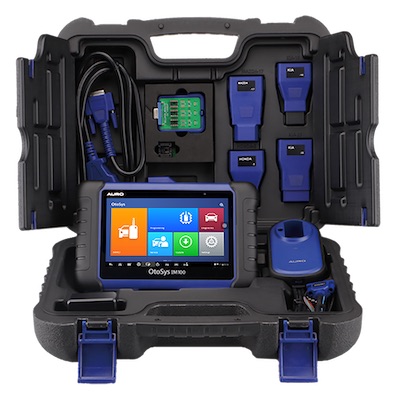 If you haven't heard then let me fill you in, there is a new player in the industry named Aurodiag and they are bringing two brand new machines to the market.
The claims made about these machines are pretty impressive and so are the promotional materials, but is the hype real and do they live up to their claims? Well we have been putting the machines through their paces and seeing how they measure up..
Aurodiag have created the Otosys IM100 and IM600 machines, the IM600 being the top of the range product that is loaded with features, but that doesn't mean the IM100 is not well equipped
The IM100 is designed to be as easy to use as possible and actually includes a built in 'Smart Mode' that provides guided and automated key learning to make the process exceptionally simple. This smart mode is very handy for inexperienced locksmiths or people new to the machine.
The IM100 has fully fledged professional level immobiliser and key programming capabilities that allow this machine to compete with any other machine in its price range. The system is based around a 7 Inch touch screen tablet with a powerful quad-core processer running Android as its operating system. Using Android as a base has allowed Aurodiag to develop intuitive software that enables technicians at every level to easily use the machine. Also included is the UP200 Key Programmer that supports transponder reading, writing and identification as well as MCU/EEPROM chip reading and writing and IMMO password reading.
The IM600 (pictured below right) is the jewel in the crown of Aurodiag's range and is designed to be a true all in one solution that delivers a high tech and advanced set of features to technicians. It has all the benefits of the IM100 plus an awful lot more. This machine is built around a 10.1 inch touch screen tablet with Bluetooth capability, an 8 megapixel camera and a large, fast 64GB solid state hard drive. Just like the IM100, this machine comes with the 'Smart Mode' feature for guided and automated key learning as well as the 'Expert Mode' for experienced users who want quick access to their desired functions.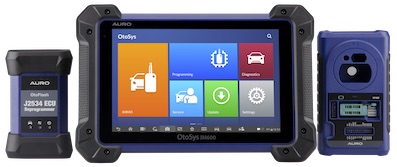 The hardwearing tablet is also designed to be resistant to grease and water and comes in an incredibly practical and robust carrying case to help you keep your kit organised and safe. The case is designed to also hold the U400 programmer which is a very dependable key and chip programming tool that is compatible with most aftermarket keys/key fobs as well as MCU and EEPROM chips. The case also holds the OtoFlash J2534 pass-thru programming device which also has internal Bluetooth VCI. These additional devices make the IM600 one of the most comprehensive immobiliser and key programming tools available today.
Another great benefit of both systems is that they do not use a token or credit system so there are no extra charges for every job that you do, saving you both time and money. There is a charge for a yearly software update but that update is optional so you are not forced to take it, although you will lose the use some of the high end features if you don't.
Now you are probably thinking that these machines sound great, but what's the catch? Well really there is no catch; the only slight downside we could find with either machine was that at the moment there aren't enough applications for European vehicles. This could be a downside for early adopters of these machines but we know for a fact that Aurodiag have a robust development plan and one of their biggest focuses is on European vehicles. You will find a large selection of American made vehicles because the machines were first debuted in the American market. This should give you peace of mind though, as you can see how well these machines are doing over the other side of the pond. Another downside for some is the stigma of it being a Chinese machine, some think that means lower quality or problems when it comes to support of the product. If you look at the machines you can see the high amount of effort that has been put into developing what is clearly very professional machinery. Just watch Aurodiag's own videos to see the quality of product they provide. In this instance 'Made in China' is very much a positive point.
Overall it is easy to see that Aurodiag really have delivered some truly great products and with their strategic development plan these machines are rapidly getting even better. The excellent Smart Mode feature saves a lot of hassle but you still have the option of using Expert Mode and having full control. The IM100 and IM600 are very quickly becoming must-have machines for auto locksmiths and we are offering a great 10% off discount to customers who preorder before our initial order arrives. In the future we will also be looking into creating and offering comprehensive training to assist you in learning and using the products. You can also check the coverage of the machine and the latest additions to the function list here:
http://pro.aurodiag.com/measurecarApp-1-1.html?m=94&operatorType=1
31st October 2018
---