Locks and Security News: your weekly locks and security industry newsletter
22nd March 2023 Issue no. 648
Your industry news - first
We strongly recommend viewing Locks and Security News full size in your web browser. Click our masthead above to visit our website version.

---
Synergy Security Solutions in European Business Awards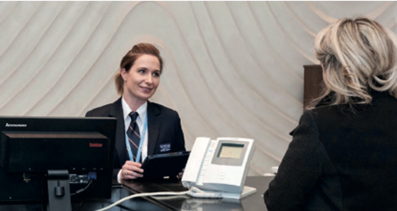 With its dynamic and bespoke approach to security services, Synergy Security Solutions has fast become a leading international provider of managed security - supporting, among others, the flourishing global tech sector based in Ireland and EMEA.
Synergy Security Solutions was born from a meeting of minds. "It all happened very quickly," explains co-owner and CEO, John Lawlor. "In 2008, a mutual colleague of myself and Ken O'Reilly introduced us and from there we decided to combine our entities to create one stronger platform."
The result was the successful merger of John's Dublin-based security firm Rapier Security Ltd and Ken O'Reilly's Cork-based firm Express Security Group.
"Before we merged we each ran successful businesses in our respective regions, but competing for National and European businesses was difficult. By combining our forces and talent with a rebrand we could drive the businesses forward."
It worked. After a meticulously planned phased merger lasting two years involving special advisors, an excellent branding campaign and "a great deal of learning", Synergy Security Solutions was created.
Adapt and thrive
With a workforce of over 1,250 people in Ireland alone, Synergy's core services include the full range of security management, covering: uniformed guarding, patrol and response, reception and concierge, specialist services, security consultancy, risk management, fire safety, CCTV monitoring and training.
Having recently moved to a state-of-the-art office in Dublin, Synergy now has the capacity to build its support team even further, to enable its development and growth as Europe's premium security services partner.
"What's more, through our UK company Synergy Prestige, we've continued to develop our corporate security solution," adds John.
All business sectors are covered, with clients including consumer-facing household names, global tech brands, corporates, data centres, pharma and retail. Yet, crucially, while these services have remained constant over the last decade, each one's offering and execution has adapted to suit the many different companies coming to Ireland's evolving marketplace.
"What Synergy does very differently to its competitors, is listen and adapt to what customers want," explains Noel Hennessy, Synergy's security consultant. "That's why so many of the large technology businesses arriving in Ireland have approached Synergy first. On the one hand, we have clear, trusted and effective processes, but on the other hand, we're capable of tailoring these processes accordingly."
An example of this bespoke service is Synergy's approach to manned guarding. Employers can opt for highly visible security guards in standard uniforms or more subtle security ambassadors wearing customised uniforms - the service can always be tailored to match the company culture.
"If a client prefers to have their security and customer service people wear their own corporate uniforms, that's fine. We operate very much as a partnership," adds John.
The same applies to size. SMEs requiring small-scale reception and switchboard services are as well catered for as multi-site corporates needing the full spectrum of services - including security guards, patrol and response, and open/close services.
"No two businesses are the same," explains John. "This way we can provide a bespoke service that meets the individual business' needs and matches the culture of that business."
A personalised service
While some clients require a relatively straightforward reception and concierge service only, other businesses need highly specialised 24-hour and international Security Operations Centre (SOC) coverage.
"For some of the roles, we're not only protecting and securing people and buildings, we're also covering them throughout the world," explains John. "In this case, officers provide global security roles for our clients, tracking people as they're travelling, in places that are of high risk."
Central to this tailored service is John and Ken's ongoing involvement with clients, which has become a key differentiator for the business. By regularly checking in and meeting with key clients, the co-owners remain close to the businesses they work with: ensuring critical accounts are well served and, consequently, renewed.
"It's vital we remain flexible and can move with our client. What may work today, may well not work tomorrow. We understand the constraints of budgets and that the correct mix of technology and people is the best way forward," says John.
"Our personal involvement with clients is extensive and highly effective - and it's become a point of difference for the company," adds the CEO who, when combined with Ken and the rest of the senior Synergy team, brings 200+ years of experience to clients.
"With a global network stretching across and beyond the international security sector, we can reach out to any corner of the world to solve a problem for any one of our clients - whether that's in the USA, EMEA or virtually anywhere."
Digital transformation
Having fully embraced technology, Synergy has developed systems and tools to streamline reporting and operations. As one of the first in its sector to optimise cloud technology, clients enjoy a bespoke desktop platform through which key account information can be accessed from anywhere at any time, while Synergy itself can be contacted, quite literally, at the push of a button.
Having achieved ISO 27001, a rare feat for a security provider, the firm ensures it operates watertight controls and procedures at all times.
"We've remained a people company, despite digitising many of our processes," explains
John. "So all the management functions are still there, it's just the unnecessary paper trail that's disappeared - which aligns with our sustainability efforts too."
With smart technology underpinning everything Synergy does, security officers are equipped with smart phones, body cameras and mobile patrol vehicles, with the latest tracking systems for satellite navigation. Security reports can be filed in minutes, with officers ready to capture any incident on camera and upload the necessary film or images direct to a client's platform for viewing.
This immediacy is fundamental to how Synergy operates and to what John describes as, the "partnership" approach the firm maintains at all times.
Awards
Since its inception in 2010, Synergy Security Solutions has picked up a host of awards. Most recently, alongside being nominated a One to Watch by the European Business Awards, Synergy made it into the Financial Times 1000 Europe's Fastest Growing Companies report - while several officers have picked up accolades such as Security Officer of the Year and Supervisor of the Year on multiple occasions.
"We're well recognised by our industry peers and we have really great staff. We're very proud of their efforts and contributions," says John.
Supporting these accolades is the firm's impressive accreditations, which include: ISO9001, ISO14001, OHSAS18001 and the ISO27001 - the international standard that describes best practice for an information security management system.
"We're one of few security companies to have the 27001 now," adds Ken O'Reilly, co-owner and Managing Director. "We like to maintain tight control and we have the 'Excellence Through People' accreditation as well, which we are very proud of.
"In terms of having quality standards, this backs up our service delivery, and we certainly have the most important ones - which clearly demonstrates our ability to achieve high standards and maintain them."

Looking forwards
With its market share in Ireland strong and growing, Synergy is now looking to keep breaking new ground in the UK and mainland Europe.
"We're growing on the basis that our clients are growing, and there's a demand for services that are flexible. We're now delivering in mainland Europe as well as London," adds Ken.
Ken and John both view these new markets as exciting open territory. "There's an intent from us to develop a meaningful partnership and support our clients, wherever they are in Europe," says John.
"The willingness for our existing clients, and also new clients, to engage with us is amazing. Our goal is to protect, hold and build on what we have."
Launched in 2007, the European Business Awards' primary purpose is to support the development of a stronger and more successful business community throughout Europe. In creating a high profile, wide reaching and very well respected awards programme we strive to create a stronger business community.
During the 2017/18 campaign, the EBA programme has engaged with 110,000 organisations in 34 countries showcasing the best of Europe.
First published by European Business Awards
19th December 2018
---