Locks and Security News: your weekly locks and security industry newsletter
13th January 2021 Issue no. 540
Your industry news - first
We strongly recommend viewing Locks and Security News full size in your web browser. Click our masthead above to visit our website version.

---
St. Nicholas Church uses MOBOTIX to protect and serve its congregation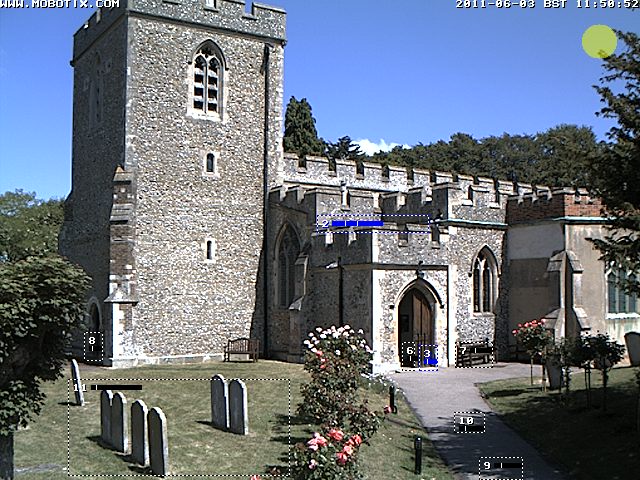 Verdant Technologies implements innovative CCTV at one of the UK's oldest churches to protect the site against theft and vandalism while allowing special services to be broadcast to relatives in Ireland and Australia.
MOBOTIX AG, a leading manufacturer of digital high-resolution, network-based video security systems has released details of a project at the parish of St. Nicholas that has deployed CCTV technology to protect against theft and vandalism while offering access to special services via the internet.
The parish of St. Nicholas extends around the northern edge of the Borough of Stevenage and includes parts of both the old and new towns. The Saxon church on this site was replaced by a Norman one in about 1100 AD, but the only remaining part of this is the great, thick-walled flint tower which houses a ring of eight bells. The church structure has been partially rebuilt so many times that it is a patchwork of nine centuries of local endeavour.
Following a systematic campaign of metal thefts from the church which caused over £20,000 worth of damage and a spate of petty vandalism, Paul Drakes, the Churchwarden at St. Nicholas Church felt he had to act, "We had considered CCTV for a while but the property is a grade-one listed building and over a thousand years old, so we needed to be sensitive to the heritage of the site."
There are many items of interest in the church including an ancient stone font with a medieval carved wooden cover, six 14th century misericords, a carved reredos dating from 1890, a Victorian organ and a number of stained glass windows.
Paul, a retired fire-fighter before being elected as the churchwarden, had previous experience with CCTV systems and contacted several local firms for a solution. "We were keen to have remote access to the CCTV and for it to have enough intelligence to alert myself or other volunteers by phone if unexpected movement was detected within the church grounds," he explains, "We looked at several analogue systems which offered poor quality and lacked flexibility. It was only when we approached Verdant Technologies did they highlight a MOBOTIX solution which was a good fit for our needs."
Paul directly liaised with Verdant on every hole that was drilled to ensure that there was minimal impact to the building, Verdant setup a CCTV solution that provides a complete perimeter and internal view of the two acre site with just six cameras. Four of the MOBOTIX DualDome-D12 cameras cover the external perimeter of the building and just two cover the entire interior. This coverage with such a low camera count was achievable because the image quality of the MOBOTIX camera is so good that it can cover a large area whilst retaining good definition.
A further DualDome-D12 camera was added to the Bell Tower to cover the car park, access road and nearby farm buildings, with agreement from the local farmer.
The system records 30 days worth of footage on an Overland 2TByte SNAP server and is also linked via a BT broadband connection. The MOBOTIX cameras can automatically telephone a range of preset telephone numbers in the event of movement in and around the church, especially late at night when previous incidents have occurred. Recipients of a phone alert can easily and securely log-in via any internet connected PC or mobile device to view footage from any camera in real-time. "This allows us to quickly and safely assess the situation and take the appropriate measures," explains Paul.
The 3 megapixel system uses dual lenses for night and day and the cameras have microphones and speakers. This high quality video and audio feed has also helped the Church increase accessibility to important services held at the church. "We have had a funeral where an elderly close relative in Australia was unable to attend due to illness and the service was made available live via the internet as it happened," explains Paul, "In another instance, a wedding was broadcast to relatives in Ireland, but this is only done with the express permission of the participants."
Since the installation of the CCTV, which Paul believes is the first of its kind in the UK to both protect and deliver church services via the internet; there have been no thefts or incidents of vandalism on the site. "Our congregation have taken to it and we are now planning to open the church over a longer period with visitors able to look around or contact us via a telephone with CCTV helping to provide a level of protection when the church is unmanned."
"Verdant has been extremely supportive throughout the project and unless you look very closely, the subtlety of the installation in no way detracts from the facade of our church," Paul adds, "Many people think of CCTV as an intrusive concept but we are showing that it brings many additional benefits to our community and we hope other churches can use the technology to help their congregations."
Verdant Technologies: www.verdant-tech.co.uk
MOBOTIX AG: www.mobotix.com
22nd June 2011
---