Locks and Security News: your weekly locks and security industry newsletter
22nd March 2023 Issue no. 648
Your industry news - first
We strongly recommend viewing Locks and Security News full size in your web browser. Click our masthead above to visit our website version.

---
Hanwha Techwin leading the way with Deep Learning video solutions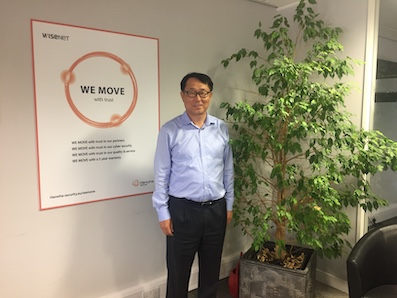 Bob (H.Y.) Hwang Ph.D., Managing Director of Hanwha Techwin Europe, explains how the company's product strategy is being honed to reflect changing market requirements.
Q: Bob, have there been any recent significant changes to the company's product strategy?
A: We have been focused on helping to refine and drive a product strategy which was devised some time ago. It could be described as a twin-track approach to success in that we are continuing to add to our extensive range of cameras and recording devices, but we are also moving towards becoming a market leading provider of integrated video surveillance solutions.
Q: 'Solutions' is perhaps an overused word. Can you explain what it means within the context of what Hanwha Techwin is currently offering or will be introducing in the near future?
A: The massive processing power now available with our open platform camera chipsets means that in addition to helping security personnel to monitor any suspicious activity and keep people safe, our latest generation high definition cameras can also help our customers achieve much more from their video surveillance systems. In simple terms, this involves utilising analytics Apps that run onboard our cameras to help users identify opportunities to improve productivity and make best use of human resources.
Video Analytics
These Apps have been developed by our chosen technology partners, all of whom are experts in their respective technology fields and include the following:
* Wisenet Intruder Detection, which is a single device intruder detection solution developed in partnership with A.I Tech that provides maximum detection, whilst significantly reducing the impact of time consuming and costly false alarms.
* Wisenet Intelligent Traffic Management, a comprehensive suite of FF Group ANPR based intelligent traffic management solutions.
* Automatic Incident Detection (AID), an easy to deploy and highly accurate city wide incident detection solution which we offer in partnership with Sprinx Technologies to budget conscious local authorities.
* Wisenet Biometrics & Retail solutions jointly developed with AI-Tech to enable small retail chains, as well as outlets such as convenience stores, newsagents and petrol stations, to gain a greater understanding of the type and numbers of people who visit their stores.
Deep Learning
Q: When can we expect Hanwha Techwin to launch some Deep Learning based solutions?
A: We are working towards introducing new Wisenet cameras during the latter part of 2019 which will incorporate a computer vision chipset allowing Deep Learning applications to be run onboard the cameras. These new 4K and 5MP cameras, which will be additions to our existing Wisenet P premium camera series, will initially offer more accurate forms of existing types of video analytics. However, they will also provide a platform for our technology partners to use our APIs to introduce ground breaking Deep Learning applications that integrate seamlessly with the new cameras.
Wisenet WAVE
Q: Will there be any other new products launched by Hanwha Techwin over the coming months?
A: I am pleased to announce we will shortly be introducing an upgraded version of the Wisenet WAVE Video Management Software (VMS).
Wisenet WAVE 4.0 will make life even easier for installation engineers and users, as it will feature an improved auto-discover feature which will enable cameras and 3rd party IP network devices to be assigned and set up in minutes.
Secure recording
Video recording, storage and transmission will be more secure as Wisenet WAVE 4.0 will offer an option to encrypt video streams between Servers and Client. In addition, transmission will only be allowed over secure connections, such as HTTPS and SSL, whilst there will be password protection for exported video.
V4.0 also incorporates a host of other new features to provide a more flexible and robust and secure recording solution. These include:
* A cleaner, more user-friendly resource panel, which enables operators to search more easily for cameras, servers, layouts, web pages, users and local files.
* Increased system redundancy and failover capabilities to minimise any downtime in the event of a hardware fault.
* Universal dewarping of images captured by Fisheye cameras.
* Webcam support and the ability to create a virtual camera and import offline video from, for example, wearable cameras.
* More integrations with 3rd party systems.
GDPR compliance
Q: Has GDPR influenced your product strategy?
A: We have previously taken a number of steps to ensure the features and functions of our Wisenet cameras, recording devices and video management software (VMS), are able to assist operators in complying with GDPR and we are now also doing so by offering Video Masking software. Our decision to do so is supported by the feedback we have received from our country managers across Europe in respect of the impact of GDPR on how video surveillance systems are managed.
Despite cultural differences in attitudes across Europe towards GDPR, the issue of de-identification stood out head and shoulders above others in terms of importance. This is because the Regulation stipulates that any person whose image is captured by a video surveillance system, has the right to be supplied with a copy of their personal data which has been recorded. However, the identity of other individuals who feature in the recorded video, needs to be protected. S-COP, our new offering for video masking software, enables owners of video surveillance systems to do so, by providing a highly effective method of redacting faces.
In simple terms, S-COP video masking software, which has been developed by our technology partner VORA systems, blurs out the faces of everyone who appears in a video clip, except the person who has requested access to it.
S-COP is equipped with a number of practical features which ensure that exported redacted video cannot be misused or tampered with. These include password protection, the ability to limit the number of views and access times, and if required, automatic destruction. S-COP can also be configured to apply a user defined watermark to the exported video file.
Any audio tracks can be easily removed or edited to further protect a person's privacy.
DRM
S-COP software provides an option to utilise Digital Rights Management (DRM) technology to encode a redacted video so that it can only be viewed by those entitled to do so. Unlike .AVI files which can be viewed by anyone on a PC which has Windows Media Player installed, DRM encoded video can only be viewed via password protected S-COP dedicated video player software.
Q: Will there be any other new products launched by Hanwha Techwin over the coming months?
A: We will be using IFSEC 2019 as a platform for introducing some exciting new products and solutions and so I would encourage anyone planning to visit the show to take time to visit the Hanwha Techwin stand IF1310.
6th June 2019
---