Locks and Security News: your weekly locks and security industry newsletter
29th March 2023 Issue no. 649
Your industry news - first
We strongly recommend viewing Locks and Security News full size in your web browser. Click our masthead above to visit our website version.

---
Frontline Defense against forced entry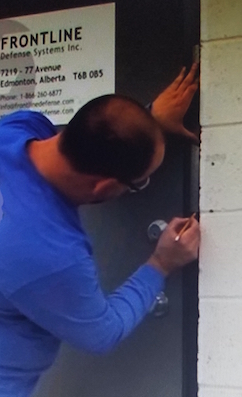 Forced entry is a popular technique employed by criminals when performing burglaries, robberies and home invasions. Most doors are very vulnerable to forced entry, even when they are equipped with auxiliary locks like deadbolts.
The construction of the door and frame and locks installed are important factors when determining an opening's vulnerability to attack.
Locksmiths frequently work on doors, repairing replacing and upgrading them. Often the door repair is associated with another issue on the door, such as it requiring to be upgraded to electronic access control, an improved locking arrangement, or a door which does not open or close properly.
Bad hinges, racked or rusty frames and warped jambs or doors are typical issues.
Some door accessories are designed to repair damaged doors and frames, but in many cases, the repairs are labor intensive, are not aesthetically appealing and the repaired area is a likely point of failure during future attacks.
Also building codes have strict rules as to what can be done in the way of repair and modifications to doors particularly Fire Rated Doors.
The best scenario is to install approved accessories to a properly working door before an attack.
Historically criminals have found easy access to property by merely using a pry bar or similar device to pop open doors to gain access. To create the greatest possible deterrent against this type of entry, Frontline Defense created the full door latch protector.
Since 2008, Frontline has supplied this technology to retail, government, commercial and residential doors, deterring and eliminating forceful entry into
buildings enhancing safety and security.
Designed for both out-swing and in-swing doors, the system is offered in both aluminium and steel material and available in several standard colours, and can be custom ordered to fit any size and colour required.
Installation hardware is included with all orders.
Custom door latch protectors are also available. If none of the cataloged items above matches your needs, contact Frontline for custom options and pricing.
The owners of Frontline are locksmiths and have had tremendous success marketing and installing them. They report that they knew they had a winner after seeing break-ins in their market area drop to near zero after installing them.
The product can be used on fire or smoke doors because not only does it prevent prying but it also fills the gap between doors and/or door and frame to reduce wind and air seepage. (Play it safe and check with your local authorities before installing on Fire Rated Assemblies)
The product can it be used on both inswinging and outswinging, exterior or interior doors.
Exterior are almost always outswing, mechanical, electrical, boiler rooms often have inswing doors and Frontline has a solution for those.
The product is also used on hotel room doors to prevent a pry tool from being run up the frame and popping the latch. The ideal installation environment is multi-family residential, high traffic buildings with latches and not deadbolts.
The product is very effective on doors with an electric strike first or any strike and after installed a dramatic drop in criminal access on these doors is realised.
The product provides an extra layer of protection on rear exit doors that criminals pry and although they can't get in they break the seal on the door negating its fire rating.
High target shops like cell phone shops, cannabis and vape shops, money exchanges and bars, restaurants and liquor stores all benefit from use of this product.
For residential use, Frontline offer the inswing versions on single family homes and apartments for an extra layer of protection.
Providing a deterrent, criminals see doors equipped with Frontline hardware as a harder target and significantly reduces the occurrence of attacks.
Currently the product is not suitable for automatic sliding or revolving doors, and some double doors where both leafs are active. Please check with the factory for product updates.
Problem buildings go from finding homeless people sleeping in them nightly to zero right away. There is often an uptick in buildings without them as soon as the product is deployed in a neighbourhood.
PRODUCTS OFFERED
Outswing - Steel or aluminum 82"(2.08m), 95"(2.4m); and 107"(2.7m); (107" (2.7m) in steel only) length three different widths and two different throat sizes Clear, white, duronotic, or black
Inswing - aluminum only, lengths of 82" (2.08m) and 95"(2.4m); in finishes of clear, white, duronotic and black
Frontline can do almost anything custom in steel, from flat and offset astragals to interlocks, any size, finish or length. Aluminium is much more restricted.
Most information about the product is on the website at www.frontlinedefense.com
26th February 2020
---