Locks and Security News: your weekly locks and security industry newsletter
31st May 2023 Issue no. 658
Your industry news - first
We strongly recommend viewing Locks and Security News full size in your web browser. Click our masthead above to visit our website version.

---
'Open up' with Gira's new door communication systems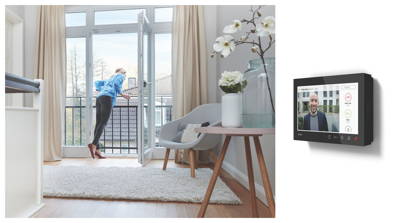 Gira, one of the world's leading full-range suppliers of intelligent system solutions for building management, digitise and safeguard the home and its occupants with an extensive range of new intercoms that are easy-to-use and offer high quality aesthetics:
You never get a second chance to make a first impression, which is why the new Door Communication Systems by Gira are great solutions for convenient home automation - inside and out - as well as increasing the level of quality lifestyle design and security in a property.
The new range of intercoms have been designed to serve varying degrees of intelligent build management, from simple doorbell systems to communication products with integral video technology: all of which present high aesthetic appeal.
Economical and a great example of future-proof design, every product in the Gira Door Communication series is designed to be variable, catering for eventual upgrades, retro-fitting and new-build or renovation projects where more than one solution is required or the needs of a building are subject to change and/or expansion.
How? All of Gira's security products and solutions are designed in such a way that it is not essential to lay new cables. Gira's use of 2-wire bus technology keeps everything very simple, so you can replace most doorbell systems by using existing cables: ideal when a modern intercom system is specified in an older property.
Serving as the homes first line of defense, the Gira System 106 is a modular option made of metal in a simple and elegant design. Installed at the front door, it combines all the vital elements, like a door bell, integral camera, name plate and house number. The system can be easily combined with other functions, making it easy to personalise. Each model is equipped with top-quality, innovative technology and the individual components can be arranged vertically, horizontally or in a square configuration to best suit the entrance.
Gira System 106 - Welcome visitors in style
www.youtube.com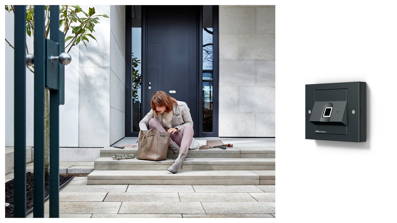 Another practical feature of the Gira System 106 is its ability to be integrated with a Renz letterbox system. Renz is recognised as one of the best European mail box manufacturers, producing bespoke and "off the shelf" multi-unit mail delivery solutions which are completely integrated in the building or adapted to the facade. For more information, please visit www.renzpostboxes.co.uk
If there is a strong desire or need to identify who's at the door in addition to verbal communication, then the new Gira surface-mounted Video Home Station 7 is powerful and attractive: with the flexibility to position it on a wall or base-mount it on a stand. This intelligent solution is powerful and visually appealing thanks to its 7 inch (17.78 cm) high-resolution TFT colour screen, which gives a high-definition display of visitors at the door: even when looking at the display on an angle!
Significantly, the new Gira Video Home Station 7 is designed with an 'alert feature' meaning if the user is visually or hearing impaired, the home station can provide tactile feedback by vibrating during full touch operation: similar to how smartphones operate today. That, combined with the high speech quality of the in-built speakerphone function promises optimum control and accessibility for all types of customer.
Gira Surface-mounted video home station 7 - See who's at the door
www.youtube.com
If the homeowner is likely to be 'out and about', then the home can be safely secured via a smartphone by using the Gira DCS Mobile. Enabling the resident to communicate with visitors remotely, it also provides the option to open the door when away from home: if deemed risk-free and/or necessary, i.e. in the event of an emergency [fire].
Gira DCS mobile app - See who's at the door, from everywhere
www.youtube.com
Helping to solve the common issue of misplaced or lost keys, the Gira Keyless In-entry System brings an end to being left in the dark by allowing the user to very easily open their door using a code or via the pre-programmed fingerprint reader, which can manage up to 99 individual finger identifications. The Gira Keyless In Fingerprint solution works with the biometric system. State-of-the-art, high-frequency technology recognises the fingerprint of the deepest layers of skin, so it works reliably: even if the surface of the skin is slightly injured, dirty or if the skin structure has changed with age.
Gira Keyless In - Open the door without a key:
www.youtube.com
Mark Booth, Managing Director, Gira UK comments "We are naturally keen to protect our homes, which is why our range of door communication systems are visually-appealing practical solutions which work to enhance and convene home security. Gira prides itself on providing user-friendly systems, which are easy to use and quick to install thanks to our unique modular approach to design. And, our various intercom systems can be used in combination with our award-winning Gira Design Lines, allowing all electrical hardware, fixtures and fittings to be specified alongside any Gira intercom solution for a seamless, fully-integrated design scheme."
Image captions:
Gira door communication consumer 01 - Hunting for door keys is a thing of the past! Gira Keyless In [Keypad and Fingerprint] removes the need to search for keys by allowing you to use your fingerprint to gain access.
Gira door communication consumer 02 - Make things easy with Gira! Use the Gira surface-mounted video home station 7 instead of shouting from a balcony or open window.
25th March 2020
---