Locks and Security News: your weekly locks and security industry newsletter
20th September 2023 Issue no. 672
Your industry news - first
We strongly recommend viewing Locks and Security News full size in your web browser. Click our masthead above to visit our website version.

---
Adjusting doors for safety & compliance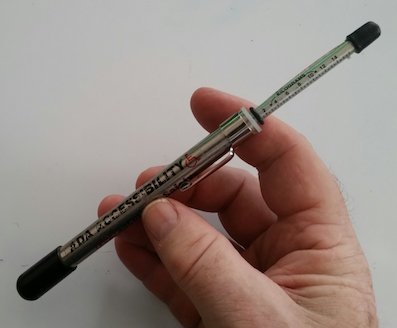 Door inspections are an important activity for security professionals. It provides an important service, and also can represent a consistent revenue stream. Depending on where you are located will determine the codes with which commercial doors will be required to comply.
Although NFPA 80 Fire Door Inspections have become mandatory in most jurisdictions, doors must comply to ADA, NFPA Life Safety Code, and to meet your client's requirements.
If auxiliary equipment is attached to the door, such as a low energy door operator, there are specifications for the proper operation which must be observed. These devices are built according to ANSI A156.10 & A156.19, and the door operator and installation industry generally rely on the resources of the AAADM for verification of compliance of door operators and instruction and certification of installers.
AAADM also provides an important public relations function, and also a listing of member companies and mechanics which the public can visit for a mechanic near them and much information on a variety of topics relating to automatic door operators.
Sometimes a problem with a door does not require tools and measurement tools to identify because the problem is obvious upon careful observation and operating the door.
Problems are sometimes cosmetic, but they can also prevent the door from opening, closing or locking properly. Damaged hinges, frames or saddles can interfere with proper door operation, and may or may not be apparent to the untrained eye.
One problem is that even if the door is properly adjusted Monday, it might not be on Tuesday, and if someone gets injured Tuesday, the building owner may be required to prove the door was actually working properly, and the injury was caused by some other cause when challenged by the victim's attorney.
Saying the door was being scrupulously inspected and maintained doesn't release the owner from responsibility for the well-being of the building's patrons (people who use the doors).
The population is greying, and the popularity of litigation is swelling. Slip & fall has become a household word.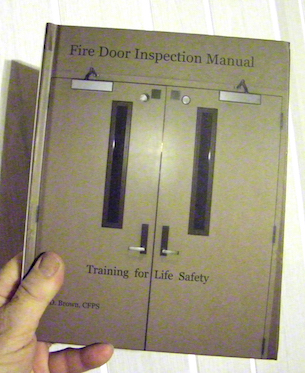 Sometimes individuals will have an interaction with a door, even if it working properly which will result in a fall or injury.
The building owner would be advised to have knowledge of the requirements for ADA, NFPA 80 and ANSI A156.10 & A156.19, and use a standardized punchlist inspection form with which they can conduct door inspections and maintain dated and signed documentation that the door(s) met the specs.
There are classes and certifications offered, and resources to familiarize oneself through independent study.
After you've worked with doors and buildings some of the information is intuitive, but that won't help if someone files a lawsuit for injury from one of your doors.
In the lawsuits I have been involved with, the immediate injuries were broken hips which led to complications. The complications were clearly the consequences of the victims' interaction with the door.
Door Pressure Gauges:
Door Pressure Gauges show the amount of force (pounds or kg) required to open doors so it can be determined if the door meets A.D.A. regulations.
This is an absolutely vital tool if working on doors in facilities requiring full access to disabled persons. It can also be used to determine the amount of rolling force required to open or close patio doors.
CR Laurence HMC035 DOOR PRESSURE GAUGE is a tool that helps to determine if Amount of Force Required to Open Doors Meets A.D.A. Regulations.
FEATURES
* Easy-to-Use
* Range is from 0 to 35 Lbs. (0 to 15.9 kg)
* Pocket Sized Tool is Simple to Use
If you are experienced with doors, and would like to self educate yourself on the subject of Fire Door Inspections which are also largely applicable to non-fire doors, and good resource is a publication named FIRE DOOR INSPECTION MANUAL by S.D. Brown.
1st April 2020
---