Locks and Security News: your weekly locks and security industry newsletter
24th May 2023 Issue no. 657
Your industry news - first
We strongly recommend viewing Locks and Security News full size in your web browser. Click our masthead above to visit our website version.

---
Revealed: 755 burglaries a DAY in England and Wales in 2020!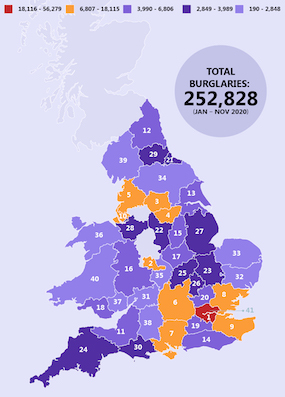 Burglary can be a very profitable crime for offenders but significantly costly for property owners.
In fact, statistics from the Government show that victims on average incur a financial loss of £4,040 from the theft of possessions and damage caused to property during a burglary.
Interested in property safety, OnlineMortgageAdvisor.co.uk analysed the latest data from the police on 41 police forces/constabularies to determine which areas of England and Wales experienced the most burglary cases between January - November 2020.
Burglaries 2020: Overall Findings and Lockdown Analysis
It was found that that there were 252,828 cases of burglary recorded by 41 police forces across England and Wales from January to November 2020 - the equivalent of 755 burglaries a day. During this period, January (31,016) was the worst month, followed by February (28,268). Whilst May saw the lowest number of cases at 18,343.
Compared to 2019, where the total number of burglary cases was 330,455 (Jan - Nov 2019), 2020 saw a 24% decrease in burglaries. A major attribute to the fall in burglaries last year was undoubtedly the Covid-19 pandemic, with more people than ever before spending significant amounts of time at home, it likely made criminals less optimistic about their chances.
When considering the key lockdown periods last year, from April - June 2020 (lockdown one - 56,551 burglaries) there was a 35% decrease in burglaries compared to April - June 2019 (87,258 burglaries). Likewise, in November 2020 (lockdown two - 22,913 burglaries) there was a 25% fall in burglaries when in contrast to November 2019 (30,713 burglaries).
Notably, all 41 police forces reviewed in the research had a year-on-year decline in total burglary cases.
Burglaries 2020: Breakdown by Police Force
Metropolitan Police had the highest number of burglaries between January - November 2020, at an alarming 56,279. This is the equivalent of 168 incidents per day in the capital last year. On the positive, it did represent a 23% drop in burglaries when compared to January - November 2019, when there were 72,625 cases.
In second position is West Midlands Police with 18,115 incidences of burglaries reported. For the West Midlands Police, January 2020 (2,328) was their worst month for burglaries last year.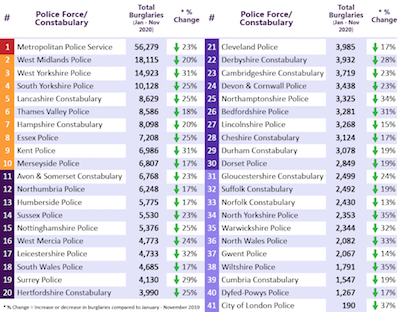 West Yorkshire Police is in third place as they received 14,923 cases of burglary from January to November 2020, which is comparable to 45 burglaries a day. Favourably for the force, it was a drastic 31% decrease in burglaries when reflected against the 21,502 burglary occurrences from January to November 2019.
South Yorkshire Police (10,128), Lancashire Constabulary (8,629), Thames Valley Police (8,586) and Hampshire Constabulary (8,098) are among the other police forces which reported over 8,000 burglaries between January and November 2020, respectively ranking fourth, fifth, sixth and seventh.
On the other end is City of London Police who had the lowest number of burglary cases at 190. From all the police forces, City of London Police also have the credential of having the biggest year-on-year decrease (37%) in burglaries, as there were 303 offences from January to November 2019.
Top Burglary Prevention Tips
1) Check Doors and Windows
Before going out, make sure all your windows are closed and doors properly locked. You should also apply this practice before going to sleep every night. Also, to prevent wandering eyes from preying on your humble abode, take the precaution to close all curtains/blinds before heading out or sleeping.
2) Motion-Activated Floodlights
Consider fitting a motion-activated floodlight at the front and back of your property. Burglars want to quickly sneak in and out without any detection, so a motivation-activated floodlight is likely to deter them as it puts a direct spotlight on anyone who enters the driveway or garden.
3) Security Markings
Mark your postcode or first line of address on your valuables to make them less attractive to burglars. You can achieve this by using a police approved forensic marking solution which is only visible under ultraviolet (UV) light. This action will primarily make it harder for burglars to sell on items and easier for police to identify stolen goods.
4) Invest in the Right Tech
If you haven't done so already, it might be a worthwhile investment for the protection of your property to install a reputable burglar alarm and CCTV camera. Both these safety features will drastically reduce the odds of your property being targeted. Additionally, a smart doorbell will enable you to keep a close eye on your main door and catch any opportunistic criminals who try tamper it or the letterbox.
Complete data for the following police forces in England and Wales was not available: Greater Manchester Police and Staffordshire Police.
20th January 2021
---