Locks and Security News: your weekly locks and security industry newsletter
25th January 2023 Issue no. 640
Your industry news - first
We strongly recommend viewing Locks and Security News full size in your web browser. Click our masthead above to visit our website version.

---
East Midlands UK Logistics Centre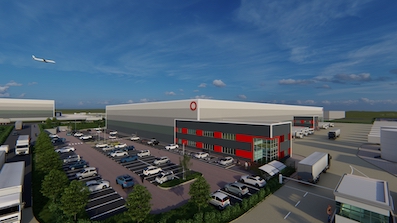 A major logistics centre based near the UK's East Midlands Airport needed an efficient video surveillance system to monitor its operations, specifically an automated part of its warehouse that operates 24/7 to fulfil orders.
The logistics company handles packages for contract customers including major retailers and is subject to strict service level agreements; so any downtime in its operations may incur significant penalties, damage its reputation, and impact customer loyalty in a competitive industry.
Fast-moving, 24/7 operations
The automated picking area handles approximately 90 parcels a minute and operates 24/7 so the cameras and video management system (VMS) selected needed to be reliable and easily supported remotely. The cameras also needed to be high definition, and highly accurate, due to the speed of the processing in the picking area.
As a result, the logistics company turned to Zicam and Hanwha Techwin, as previous projects gave the team confidence in Hanwha Techwin's reliability and ease of use.
A state-of-the-art solution
Zicam and Hanwha Techwin implemented a standalone system for the picking area to give a comprehensive overview of any issues occurring on-site such as a conveyor belt jamming, equipment failure, or parcels falling from the belt. Quick responses are critical with a fast-moving conveyor system, so the cameras used, coupled with the Wisenet WAVE VMS, enable the company's 24-hour engineering team to take quick action. This keeps downtime and parcel build-up to a minimum and maintains the productivity of the site.
The site uses Wisenet QND-8080R cameras, chosen for their wide field of view and high resolution. The dome cameras feature motorised varifocal lenses that allow operators to scan the area and zoom in on parts of the conveyor system that are prone to blockages.
Detail and speed
Zicam and Hanwha Techwin also installed high-capacity RAID server storage and ensured there was sufficient bandwidth to support video at 20fps. Working with Wisenet WAVE, this enables operators to keep up with the speed of the picking system and also easily review any faults or incidents frame-by-frame in high detail - something that has proved invaluable in preventing similar incidents from occurring in the future.
"Operational disruption is not an option for this leading logistics company, so it was vital that we installed a system that was reliable and provided the high-quality footage needed to keep operations running. Hanwha Techwin was a natural choice for us and the client, as its products have a proven track record in performance and reputability," said Dave Salisbury, Managing Director at Zicam.
Security front-of-mind
The logistics company was keen to use Hanwha Techwin's solutions thanks to previous successful projects that proved Hanwha Techwin's reputation for high-quality performance at a competitive price. The company was also required not to use any equipment from the black-listed companies under the National Defense Authorization Act (NDAA) in its warehouses, so Hanwha Techwin was an attractive choice as a Korean manufacturer that adheres to cybersecurity by design and is NDAA compliant.
Remote support and reliability
Hanwha Techwin's solution is remotely supported, with software and firmware updates carried out remotely at a time that suits. This remote connection means that configuration can be undertaken remotely. When vibrations from recent building work put the cameras out of focus, for instance, they could be re-focused remotely, without an engineer having to visit the site. "The 5-year warranty that comes with being a silver partner has also provided added peace of mind for the client," adds Salisbury.
Future plans
Based on the success of this project, there are three additional installations planned for 2023 that replicate this video surveillance system and build on it further with AI-based perimeter protection from Hanwha Techwin.
About Hanwha Techwin
Hanwha Techwin is a subsidiary of Hanwha Corporation, one of the largest business conglomerates based in South Korea. Hanwha Techwin offers total security solutions which encompass network and analogue cameras, recording solutions, video management software and compression technology. Hanwha Techwin has consolidated its leadership position in security solutions by building self-developed SoC chipsets, along with the optical, manufacturing and image-processing technology accumulated over 30 years.
Hanwha Techwin is preparing for the future by continuing to invest in AI technology and cyber security in order to provide intelligent and secure solutions to customers. Under its Wisenet brand, Hanwha Techwin will strive to deliver security solutions which customers can trust.
For more information about Hanwha Techwin, please visit our website: https://www.hanwha-security.eu/
About Hanwha Group
Established in 1952, Hanwha Group is one of the largest business conglomerates based in South Korea and a "FORTUNE Global 500" company. Our aggressive investments in our primary industries (chemical, aerospace, mechatronics, solar energy, and finance) are laying the foundation for sustainable development and a brighter future for all. The Group's footprint includes 80 affiliates in South Korea and 469 global networks worldwide including America, Europe, China and the emerging markets in Southeast Asia and the Middle East.
3rd August 2022
---