Locks and Security News: your weekly locks and security industry newsletter
25th January 2023 Issue no. 640
Your industry news - first
We strongly recommend viewing Locks and Security News full size in your web browser. Click our masthead above to visit our website version.

---
Navtech Radar showcases AdvanceGuard with new Witness software at Essen.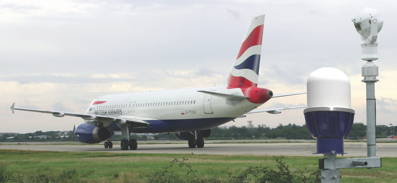 Navtech Radar, the world leading supplier of radar based Perimeter Intrusion Detection System (PIDS) for airports, will be showcasing their AdvanceGuard PIDS solution with a brand new version of the sophisticated Witness software at the Security Essen show in Germany September 23-26 2014.
With more than 1,000 exhibitors and visitors from 115 countries, in a booming security market, the bi-annual show in Essen is one of Europe's largest Security fairs, and the ideal platform for showcasing Navtech's unique, cost-effective Airport PIDS solution. This world-leading system is now installed at 16 Major European Airports.
Business Development Manager Jason Burger at Navtech Radar said, "Preventative security measures are crucial for passenger safety and confidence as stipulated by the ICAO and EU (300/2008 and 2320/2002) regulations. Uninterrupted running of airport operations is imperative, as unlawful interference culminating in a security breach, can result in huge operating losses due to the evacuation process and/or temporary closure of an airport.
Commercial Airports typically have very large perimeters many in excess of 15km, which are expensive and difficult to secure, especially in adverse weather conditions. Navtech Radar's frequency modulated continuous wave (FMCW) 76GHz technology is ideally suited to the challenge. The robust design of the radars, coupled with the ability to operate 24 /7 in all light and weather conditions, even in dense fog, make AdvanceGuard the preferred technology for the challenges faced by airport operations and security services. With low installation and ongoing maintenance cost, the overall cost of ownership is very competitive compared to traditional fence detection systems. Navtech's radar surveillance technology can deliver further cost-saving by re-addressing the balance between technology and manned security guarding. With 360 degree radius detection offering a range of up to 1000 metres man detection, Navtech's radar systems are the perfect solution for perimeter and critical security restricted area (CSRA) surveillance. Multiple overlapping radar sensors can be networked to offer site wide security coverage, controlled and monitored via a single PC running Navtech Radar's sophisticated physical security information management (PSIM) software - Witness."
Navtech Radar will be using the Essen show to showcase the new version of Witness. Witness manages all system functions; from analysing movement to creating target 'tracks' and controlling cameras to follow them, to handling the complex algorithms in the security rule engine which analyses target behaviour, assigns threat levels and allow security staff to define alarm zones and the rules that trigger them. Witness includes Sentinel, the intuitive on-screen security interface. Sentinel allows users to draw - or revise - alarm zones and their associated rules. At the simplest level, it can replace physical barriers using 'virtual fences, or access points' which alarm, when objects enter them, travel in the wrong direction within them , or pass through, out of hours. The new version of Witness was completed earlier this year, and has already been implemented at Ostrava Airport. However, the Essen show is the first time the new Witness Software will be showcased to a wider security audience.
E-mail [email protected]. To pre- register for the Essen show, and to get discounted entrance tickets, go to: www.security-essen.de
Witness functionality @ a Glance:
* Works on standard PC hardware with Windows OS Scalable modular system - components can be installed on a single platform or as the system scales they can be distributed across multiple systems to handle load
* Reliable, robust 24/7 operation
* Supports multiple GUI clients with user-level access control
* Fully automated decision making and camera control
* Supports 40+ radars on a single software system
* Supports an unlimited number of PTZ cameras installed anywhere on the site
* Intelligent camera control enables excellent coverage with fewer cameras
* Supports additional static sensors, such as broken beams or PIRs, to cover minor blind spots
* Supports integration with third party systems using an open XML protocol
* Intuitive GIS display which provides exceptional situation awareness
* Records targets and alarms in an integrated database
* Historical alarms and all tracked movement can be analysed and displayed
* All system changes are fully auditable
* Supports touch screen control for kiosk-style operation
* Supports headless operation when integrating with third-party software
More information can be found on www.navtechradar.com.
17th September 2014
---