Locks and Security News: your weekly locks and security industry newsletter
22nd March 2023 Issue no. 648
Your industry news - first
We strongly recommend viewing Locks and Security News full size in your web browser. Click our masthead above to visit our website version.

---
Genuine Lishi App exceeds 1,500 downloads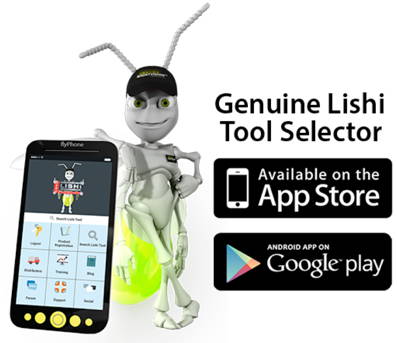 Over the last few months, Genuine Lishi has concentrated on renovating and revamping their extensive collection of top of the range supplies, and has recently taken the market by storm with yet another unique and innovative product launch.
Genuine Lishi NightVision 3-in-1 tools are able to decode and pick car doors, ignitions and trunks and are truly a revelation when it comes to technological development.
NightVision lights up the tool when it gets dark automatically, with no requirement for torches or other sources of light. It is simple to operate and get to grips with, so anyone can take full advantage of its many benefits and rewards. Each and every Genuine Lishi tool is checked and tested out before delivery by fully qualified specialists so that it is guaranteed to reach you in pristine condition.
Genuine Lishi have now taken their development even further with the introduction of the fantastic FREE Genuine Lishi app, which is available on both Android and Apple devices. This app has been in production for a good few months now as Genuine Lishi wanted to make sure that everything was 100% perfect before offering it to their valued customers. It will provide you with the most current, useful and up-to-the minute information available, and they firmly believe that there is absolutely nothing like the Genuine Lishi app on the market at this moment in time.
The Genuine Lishi app has primarily been created to act as a key reference point for auto locksmiths who have been called out on a job and stumble across a vehicle which they are unfamiliar with. The browser facility is available once the user has logged into the Genuine Lishi app by either creating a new account or by using their existing login details for the Genuine Lishi website.
There is a dominant search engine which is built into the app that allows you to locate the correct Genuine Lishi tool to use. You can find this information either by the make of car and the model, or alternatively by the lock type. This will then bring up an exhaustive list of Genuine Lishi tools which will decode or pick that type of automobile. This information is always reviewed and updated so that it is relevant and current, for example if a new car model is manufactured or a new tool is released then we will instantly notify customers of these fresh developments.
Ben Jennings, Marketing Manager of UAP, says, "One of the things which we certainly did not want to do was merely have the app as a search function, as there is so much more to be gained from the Genuine Lishi app. Once you search for a tool the list of Genuine Lishi tools which open that particular brand of vehicle appear on the screen, and you can then click into each tool for more information so that you get a brief overview of how each product operates."
Ben continues, "You will also be able to view a table which gives all of the key references required for each vehicle, including the Instacode IC card references. A comprehensive list of all the makes and models of cars that tool opens will also be included. The Genuine Lishi app also enables you to search for the accredited Genuine Lishi distributors in your country of residence. Here, you will be able to buy Genuine Lishi tools from local and regional suppliers and also find details of their name, address, contact numbers, email and websites."
When you buy Genuine Lishi 2-in-1 or 3-in-1 DTI tools there is a unique serial number on the back of the tool. On the Genuine Lishi app, if you click on the tab labelled 'Product Registration' then it will allow you to enter this serial code. Once this number is entered, the tool becomes bound to your account. This means that if you were to ever lose the tool then there is a good chance that we will be able to trace it and then return it straight back to you.
When a tool is bound to your account it is then downloaded and stored on your app. This means that you no longer need internet connectivity in order to view all of the attachments on your registered tool. So if you frequently go out on jobs in remote, hard-to-reach locations then this could prove to come in extremely handy. The search function will still work even if you have no phone signal, meaning that you can still search for what tool opens a particular vehicle wherever you are.
Ben concludes, "The Genuine Lishi app has already exceeded 1,500 downloads, and continues to rise in popularity as it is yet another revolution that we are making in the auto locksmithing trade. It is convenient and easy to use, and can be located using the following links, completely FREE of charge:
Apple iTunes Store (for iPhones)-https://itunes.apple.com/gb/app/genuine-lishi-tool-selector/id923921706?mt=8
Google Play Store (for Android Devices) - https://play.google.com/store/apps/details?id=com.genuinelishiapp
A full, step-by-step walk through guide of how to use the Genuine Lishi Tool Selector app has also been uploaded to YouTube - www.youtube.com."
7th January 2015
---