Locks and Security News: your weekly locks and security industry newsletter
25th January 2023 Issue no. 640
Your industry news - first
We strongly recommend viewing Locks and Security News full size in your web browser. Click our masthead above to visit our website version.

---
Tradelocks Get an Insight into Keyline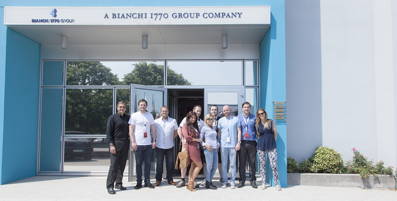 Several members of the Tradelocks team, accompanied by Greig Kember of the AA, recently flew out to Venice, Italy, and met up with Elena Bianchi, an 8th generation family member of master locksmith Prospero Bianchi, the founding member of the Bianchi key business in 1770!
On Friday morning, the Tradelocks team were picked up by Elena and taken to the Keyline factory, which is about 45 minutes from the heart of Venice, in a town called Conegliano.
Ben Jennings, Marketing Manager of UAP, says, "When we arrived at the Keyline building, we were very impressed at how friendly the Keyline staff were, making us feel very welcome indeed.
We were led upstairs to the lecture theatre, which had a very large projector screen, multiple seats and a large board room table. Elena took us through the history of Keyline, from the very start of the business in 1770, to the start of Keyline in 2002 by her father, Massimo Bianchi. It was very interesting to see the history of such an old and established key business!"
"We were then taken on a tour of the whole factory, which was an eye opening experience. During Elena's presentation, she mentioned that one of the biggest factors that set them apart from all of the other competitors was that they made everything in their factory in Italy instead of abroad, which is why you will see 'Proudly made in Italy' on every Keyline product! With everything in house, it means that Keyline can concentrate on making sure each product meets their high quality standards without having to rely on third party factories!"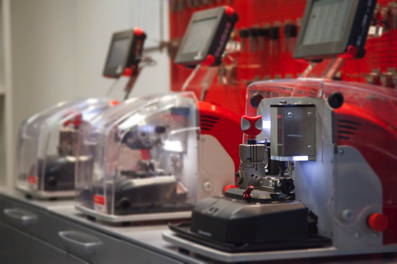 "First, we visited the key side of the business, where Keyline make over 45 million keyblanks annually, with this figure growing year on year! For all of us, it was the first time we had ever seen how a keyblank was made. There were many different machines; from machines which stamped out the key shape from metal, to creating the key profiles, to creating the key head."
"We then moved on into the key cutting machine side of the factory, where each machine is meticulously put together by hand. It was extremely refreshing to see the amount of time and care which goes into each machine, and it was clear to see how much passion each employee had for making sure each machine was perfect before it was sent for testing. A key machine can take from anywhere between 1 hour to 25 hours to assemble, and the attention to detail to make sure each element is perfect was remarkable."
"We also got a chance to see exactly how the machines are tested. It was impressive to learn that every machine is tested for 2 days straight with it constantly cutting keys. With this sort of testing and passion for each machine, it is no wonder why Keyline machines are considered to be the best key cutting machines in the World!"
The factory tour was truly impressive, and was backed up by Greig Kember, Head of Vehicle Security at the AA, who said, "It was a fantastic insight to see the factory and how it operates. Clearly Keyline are dedicated to quality and it was a pleasure to see a family run business with all the dedicated staff enjoying what they do with immense pride."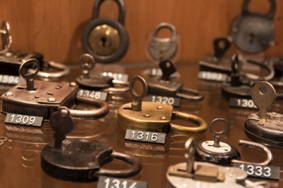 Ben continues, "The surprises at Keyline didn't stop there! We were then taken to the company museum. Here we were shown a huge collection of locks and key machines all the way back from the 1700s! This collection has been passed down over many years, and includes some very rare locks and some of the first key cutting machines ever made!"
"Finally we made it to the training room. One of our main aims for visiting Keyline was to get in depth knowledge on exactly how each key cutting machine works and operates, so that we can provide a better service to all of our customers. The training room was filled with every key machine set up on work benches ready to go. From the Ninja Laser, to the Ninja Vortex, to the Carat and Falcon key machines, everything was there!"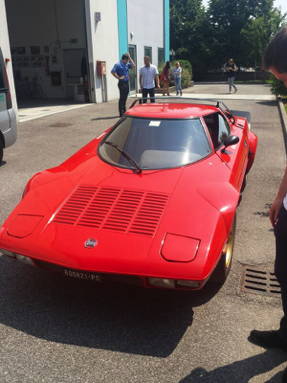 "Elena went through each machine in turn, telling us everything we would ever need to know; from the technical details all the way through to how each machine operates. We discovered many features we didn't know existed on each machine, including the very cool engraving feature on the Ninja Vortex, which is capable of engraving letters and names onto the keys as it cuts them!
By the end of the session, we were all able to operate the machines, showing just how quickly and easy it is to use! We were able to copy the keys and also operating the machines so that they can cut to code."
After getting to grips with all the Keyline machines, everyone met Massimo, the owner of Keyline. As a treat, he took the team to the Keyline garage to show everyone his collection of sports cars and super bikes. From a Lamborghini Muira to a Ferrari 275 to a Lancia Stratos and even a classic Fiat 500, Massimo had them all!
Massimo was even kind enough to take several members of the team out for a 'spin' in the cars, with a couple of team looking quite sheepish once they got back after experiencing the true power of the cars!"
Elena Bianchi, says, "I'm very happy that Tradelocks have come all the way from the UK to come and see us. I hope that they have left with a better understanding of who we are as a company, and seen the hard work and dedication that goes into all of our products. We are excited to be working with Tradelocks as our distributor in the UK, as they have very similar values to our own, and are constantly striving to advance and get better and better."
Ben concludes, "The visit as a whole has definitely demonstrated to us exactly why the Keyline machines are so good, and shown us the passion and care each and every employee puts into every product they manufacture. I know the whole Tradelocks team are looking forward to start showing off these machines to our customers using their new found knowledge gained from the visit!"
Keyline key cutting machines, key cloners, pod keys, electronic heads, emergency keys and horseshoes are available now from www.tradelocks.co.uk, with every product in stock and available with next day delivery! Interest free finance is also available on the Keyline machines, helping you to spread the cost on a monthly basis!
17th June 2015
---