Locks and Security News: your weekly locks and security industry newsletter
29th March 2023 Issue no. 649
Your industry news - first
We strongly recommend viewing Locks and Security News full size in your web browser. Click our masthead above to visit our website version.

---
Tradelocks Budget Cylinders - Why Can't You Have Your Cake and Eat It?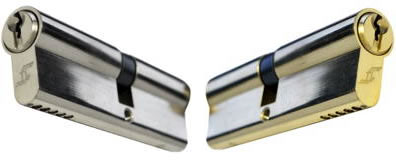 When UAP went about developing the new Tradelocks cylinders, they decided to work in a different way. They wanted to offer a budget cylinder packed with security features usually found on the more expensive options. But Why?
David Jennings, MD of UAP, explains, "There are 2 main reasons. One is we believe that all cylinders should offer security features as the cylinders are designed to protect the public. Second, we believe that companies who promote security doors will increase their profits and sell more, and so it makes economic sense to offer a more secure cylinder."
David continues, "However the security features must be done in a way to still make the cylinder a budget cylinder. And that has always been the issue."
UAP are renowned for developing innovative solutions to problems, and the challenge of developing a security packed budget cylinder was taken on with relish.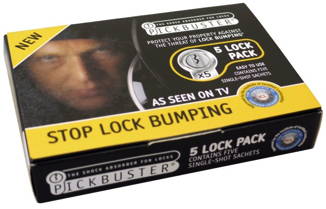 David says, "We knew we had price as a significant parameter to maintain the budget price objective. We knew we wanted Anti-Drill and Anti-Pick. And we knew we wanted 6 pins. The icing on the cake was if we could add Anti-Bump..."
UAP have been at the heart of the Anti-Bump debate since they launched Pickbuster some 9 years ago as an aftermarket Anti-Bump upgrade. Pickbuster was a chemically based solution to the problem and hundreds of thousands of locks throughout the UK are still protected by Pickbuster.
Tradelocks is the locksmith supply division of UAP, and Tradelocks works with some of the finest locksmiths and lock engineers in the country. And it was with working with Martin Pink, that UAP developed an effective and economical Anti-Bump solution for budget locks, which UAP Patented called Zero Lift.
David explains the Zero Lift concept, "We wanted to introduce an Anti-Bump system that was not based on trap pins as they are expensive to produce. We wanted to look at how bumping works and develop a system based upon the pins in the cylinder. If we were able to do this then we could pin cylinders cheaply at source and add an Anti-Bump feature for pennies."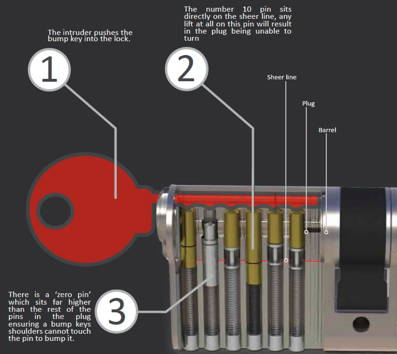 "So we studied bump keys which are used to trick a cylinder into opening. It became obvious to us that we could achieve our goal by introducing a long pin which was the full height of the cylinder core, and went from the keyway line to the shearline as a solid pin.
"As a full height pin, anything that is shorter requires a shallower cut in the bump key, and this would overlift the long pin. What this means is that the long pin would push over the shearline and lock the cylinder. To bump the cylinder requires a deeper cut bump key, and the smaller pins need to jump a much higher distance.
"This makes bumping hard. We then used the Zero Lift system, and developed a pinning chart of combinations that makes bumping this cylinder almost impossible by criminals."
With the Zero Lift system now Patented, UAP added the system to the Tradelocks cylinder to give added protection to the Tradelocks cylinder with little impact on the cost!
So what makes up this remarkable Tradelocks cylinder?
Firstly it is made from Brass which means it is dimensionally stable, and easy to work in production. David adds, "We would never consider using Aluminium as most of those cylinders are very poor quality. We just don't think a budget cylinder needs to be low quality."
The Tradelocks cylinder is 6 pins, meaning that it is harder to pick, and the number of pin combinations is well over 30,000 meeting the requirements of EN1303 Grade 5.
Each cylinder has an Anti-Drill pin in the body protecting the plug. The pins are made to a minimum 50 RHC meaning that they won't be beaten by standard HSS drill bits commonly used. The pins also stretch the full length of the barrel giving complete protection to the front end of the cylinder!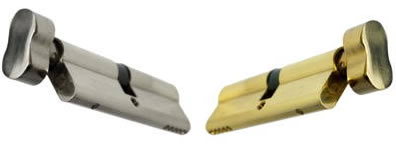 Every cylinder has a minimum of 1 Anti-Pick mushroom on each side. An Anti-Pick mushroom looks like a dumbbell. If someone picks a cylinder, they try and force the pins down to the shearline, and being solid shapes they move smoothly up and down the cylinder chamber. But a mushroom has a thin mid-section. When picking the mushroom, it will tip over and trap, thereby hampering the picker!"
David concludes, "The Tradelocks cylinder just shows that you can have a budget cylinder, packed with security features. And not only does the Tradelocks cylinder offer security, but it conforms to the requirements of EN1303 and can be keyed alike and master suited. To my mind the Tradelocks cylinder is the perfect budget cylinder for today's market - so now you can have your cake and eat it!"
Tradelocks budget cylinders are in stock now, and are available to buy with next day delivery from www.tradelocks.co.uk!
29th July 2015
---