---
International News
Products
SALTO introduces new SALTO GEO electronic cylinder for cam locks
SALTO Systems has added a new SALTO GEO electronic cylinder for cam locks to its model range, offering an easy way to boost security of these commonly used locks.
Cam locks are typically used to secure cupboards, document cabinets, school lockers, electrical panels etc. and usually consist of a base, which contains a keyhole, and a long tailpiece or tongue known as a cam. Cam locks are one of the simplest of lock fastenings. .
more
---
---
---
Cryptovision starts product offensive against surveillance
Not a day passes without news of international and domestic surveillance activities of the so-called 'Five Eyes states' (the US, UK, New Zealand, Canada and Australia). Due to this threat, the demand for encryption technology has increased tremendously in recent months and German cryptology suppliers are uniquely positioned to profit from this development.
more
---
---
New product release from AKL - Counter Top Transponder Tester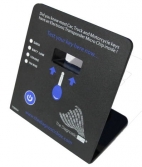 The Advanced Keys TDB004 Counter Top Transponder Key Tester offers a simple check to ensure a key or remote control has a working transponder fitted and also a fast and easy way to check if the transponder is responding.
more
---
By Victor Southern, Lockdecoders
Once upon a time there was a wonderful firm of Swiss watch-makers. So skilled were they that their watches became a symbol for quality.
Rolex! Who has not heard of them? Who has not desired one? So, it came to pass that in a land in the East men who had not acquired those skills found a way to make watches that looked like the wonderful Rolex.
The mechanisms were rougher and cheaper, the tick was louder, the hands moved erratically, the "gold" plate wore off but still the trademark Rolex would be on a wrist.
"See my Rolex" you could say, and "by the way can you tell me the right time?" A rusty "Bolex", not a trusty Rolex.
more
---
Liberty access control - no control panels required


Viscount Systems has introduced Liberty, a scalable IP Access Control system that does not require control panels.
Each Liberty kit includes a Nano Cube web server, a 2 door IP Encryption Bridge, and 2 RFID readers. The system can be expanded at a low cost by simply adding additional IP encryption bridges and readers.
Optional accessories include input/output IP bridges for monitoring auxiliary doors, and IP bridges for controlling elevators.
more
---
Kar Auction Services acquires high tech locksmiths
KAR Auction Services, Inc., a provider of used vehicle auction services, announce the acquisition of Miami, Fla.-based High Tech Locksmiths (HTL), which specializes in products for the automotive industry. HTL is the largest provider of transponder, remote, high-security and car smart keys in North America. KAR Auction Services, Inc. CEO Jim Hallett made the announcement.
"I am pleased to welcome Jay Wiener and his entire team to the KAR family," said Hallett. "High Tech Locksmiths utilizes technologically advanced equipment and processes that will benefit customers across the KAR business units. This acquisition allows us to provide a more consistent level of service to even more locations nationwide."
---
---
This Week's News
---
---
---
---
---
---
---
---
---
---
Locks and Security News Archive Search
We keep an extensive archive of news stories and product information that have featured in past issues of Locks and Security News. If you would like to run a search of the Locks and Security News web site using the search tool below please just go ahead by entering in the name of the person, product or company or any other key words that you are looking for.
---
News in Brief
How to contact us at Locks and Security News: